Hello! I've been busy writing Bible studies, making housebuilding decisions, and helping our daughter's wedding happen lately. As a result, there's not been much happening here. I've been focusing most of time on Instagram, if you want to follow us there. (Look for Doorpostslady). But I want to share some artwork with you today that I think you'll like! (And if you want to order one of these you need to hurry, because pre-orders end tomorrow! I meant to post this a lot sooner, but have been busy!)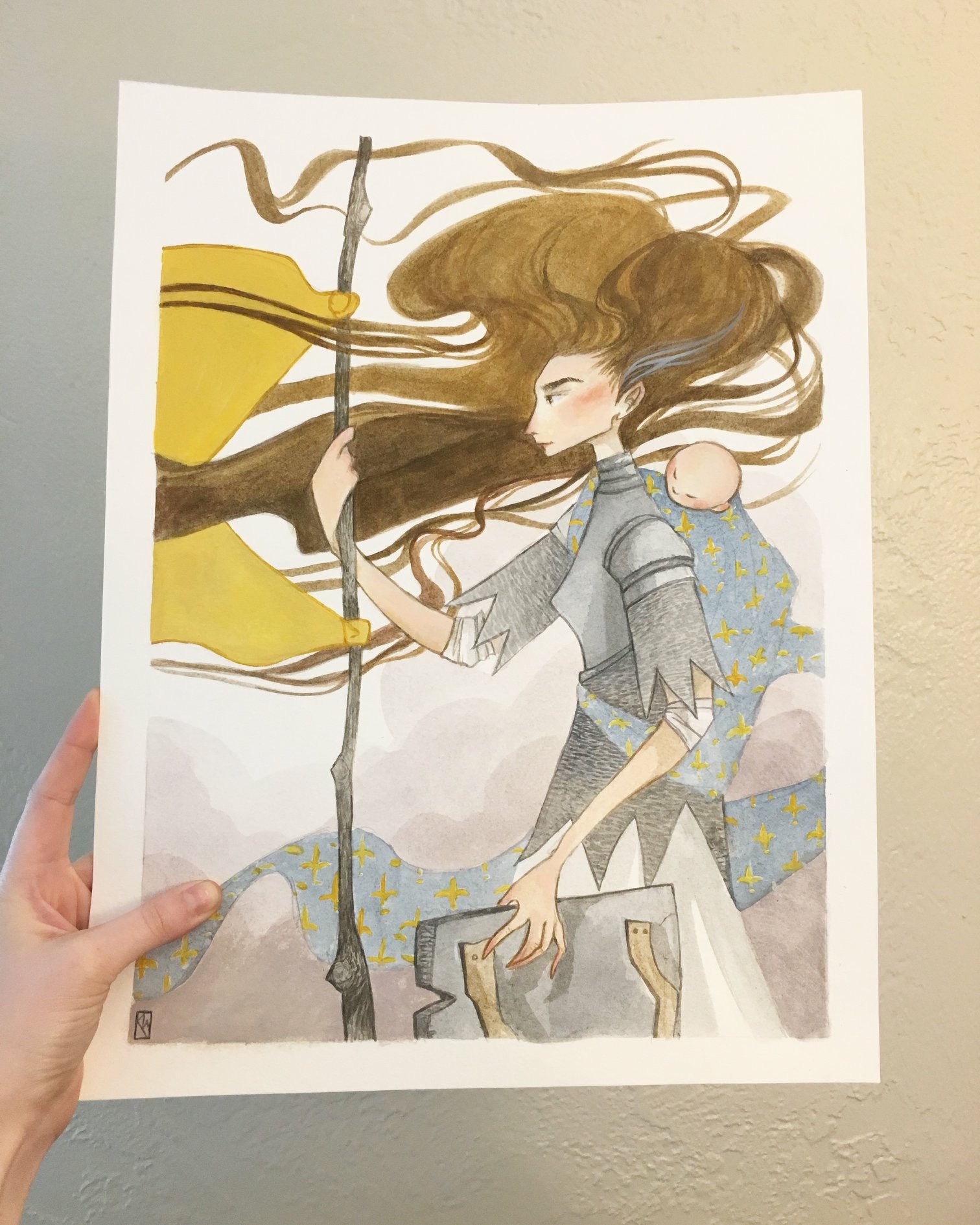 This wonderful picture is done by a friend of mine, Kerilynn Wilson, a very creative young woman who works hard to be a good steward of her God-given talents. I love what she's put together in this piece of artwork — the warrior mother, doing battle for her King, for her children, for her husband. It makes me think of Proverbs 31. Did you know that the word translated virtuous in Proverbs 31 is the same word as valor? It's the same word that is used in reference to David's mighty men of valor!  Boy, can that change the way we view our roles as mothers!
Here's some words on that mighty woman of valor from our Busy Mamas Bible study on Proverbs 31 (which we will be doing as a group study on Mama's Refill during May and June, by the way).
"When I discovered this [that virtuous and valor are the same Hebrew word], it completely changed the way I viewed the Proverbs 31 Woman. She ranks right up there with David's mighty men of valor! And so can I, if I fear God and go out in His strength to fight the battles He assigns to me!  The same word that describes David's bravest, strongest, most loyal soldiers is used to describe this God-fearing lady of Proverbs 31.
"Every time I conquer another load of laundry, I am fighting to roll back the effects of the curse. (Do you think there was laundry before sin? I'm guessing not. After all, there weren't any clothes until sin entered the world.)
"Every time you change a diaper, you are fulfilling your role in training up new little soldiers for Christ.
"Every time you stop what you are doing to calmly correct and instruct a sinful child, you are shaking your victorious fist at Satan.
"Every time you straighten up the kitchen or take out a messy seam to re-sew it the right way, every time you clean out the refrigerator or weed the garden, every time you carefully talk through a disagreement with your spouse, you are telling Satan that the battle is already won. In Christ's strength, you are no longer enslaved to him. You are following Jesus now.
"When we fear God and go out and do what He has called us to do, trusting Him and doing our very best in His strength, we are mighty women of valor marching right alongside the Proverbs 31 Woman!
"See if that doesn't change how you think about your day!"
I love this picture, because it grabs hold of the glory and meaning of motherhood! It may seem tedious and even meaningless at times, but it's not! We're doing kingdom work!
So I want to give away one of these prints by Kerilynn Wilson! And I want to encourage you to order one for yourself at Kerilyyn's website!  She's taking pre-orders and printing a few extras along with those orders, so it's going to be first come, first served after April 25! (If you win, you can always give the other one away to some other fellow-mom-warrior!)
Hang this picture on your wall, and it will help you remember what your job is all about every time you see it!
To enter, tell us two things:
1. What is your greatest joy as a mother?
2. What is your greatest challenge?
The answers don't have to be long (but they can be if you want!) 
Give your answers to both questions in one comment below before midnight tomorrow, Wednesday, April 25, and I will pick a random winner so you get your print in time for Mother's Day!

« «