"Wherefore seeing we also are compassed about with so great a cloud of witnesses, let us lay aside every weight, and the sin which doth so easily beset us, and let us run with patience the race that is set before us, looking unto Jesus the author and finisher of our faith; who for the joy that was set before him endured the cross, despising the shame, and is set down at the right hand of the throne of God." (Hebrews 12:1-2)
Reformation Day is just around the corner! I would like to take a break from our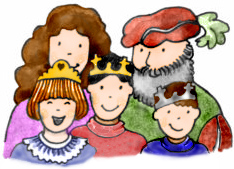 series of posts on sharing to encourage you to spend the next few days focusing on the lives of faithful believers throughout history. The early reformers (especially Martin Luther, John Calvin, and John Knox) changed the world with their courageous commitment to Scripture. Many others have laid down their lives for the cause of Christ.
We are to learn from the lives of these men and women, and we are to be motivated to follow in their footsteps. Read Hebrews 11 with your children. Then discuss the people who are mentioned in the passage. How was each faithful? Discuss the descriptions given of the others who suffered for the sake of Christ. What historical heroes can you and your children recall that fit these descriptions? Who fought valiantly? Who was imprisoned, scourged, stoned, or tortured? What people in the world still suffer much  because of their faith in Christ?
Why not have a "cloud of witnesses" dinner one day this next week? After discussing heroes of the faith, and looking through books or browsing the internet, ask each member of the family to come to dinner dressed like a famous man or woman of God. The person can be from Scripture or from any other period of history. Make materials available for assembling simple costumes. Have everyone tell their story at the table, or ask each person questions that can be answered with "yes" or "no" (Were you in the Bible? Were you in the Old Testament? Did you die for your faith? Did you live during the 16th century? etc.), and let the rest of the family guess who each person is.
If you choose to have the children focus on a particular period of history when choosing their heroes, serve a meal with foods typical of the period. Play background music from the time period. Give some kind of prize for the best costume. Make up a game or two related to heroes of the faith. A quick memory game can be assembled with names of different people written on cards to match. If you have time, close out the evening with a video about a hero of the faith. (Bluebehemoth.com will give you plenty of choices.) Have even more fun by inviting another family to join you!
These great men and women are examples for us and our children. They are the real heroes we need to put before our children, the "cloud of witnesses" that should inspire us to lay aside the sins that hinder us, so that we too can effectively "run the race" God has set before us.

« «