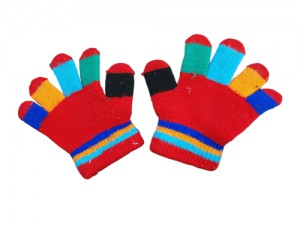 I learned something today.
Actually, I relearned it — this time as a grandma.
Don't give gloves, no matter how cute they are, to children aged three and under.
I'm sorry, Katelyn. They were so cute — and cheap — and I knew the girls would like the idea of wearing them, especially if they had gingerbread men and reindeer on them.
But I forgot about fingers. I forgot how exasperating it is to get just one tiny finger into each matching glove finger. I forgot how distressing it is to have one floppy glove finger next to another that's bulging with two or three fingers in it.
I forgot that after all the work of putting gloves onto little hands, the main fun for the gloves-wearers is pulling them off again — and then asking (or demanding) to have them put back on again.
I forgot how one little thing like a glove can sour a perfectly good walk in the sunshine. Katelyn had asked me — Nana, the fool who bought gloves for her daughters — to join them for a walk. After the rough start of looking for gloves, sharing gloves, and actually getting gloves on, the first half of that walk was punctuated with one bit of grumbling after another.
"I want my glove to have the gingerbread man on the other side of my hand."
"I want my seat back."
"I can't get my glove back on."
"I can't put it on."
"I want my coat zipped."
"Fingers in!"
"Want. my. coat. zip." (Little sister)
"Nana. put. guvs. on."
"No. Nana. on."
"Coat off."
They were implacable. It became so ridiculous that Katelyn and I had to laugh. Only the old sin nature — and a tiny pair of gingerbread man gloves — could inspire so many ways to be unhappy on such a beautiful day!
Then we had to wince. This must be how we look to God. How many times do we take a perfectly good blessing and turn it into something to grumble and bicker about?
A house full of little ones — rewards from a loving heavenly Father — but we grumble about their messes, their needs, their childish foolishness.
A church full of people who love Jesus, but we grumble because they're still sinners — just like us.
A hard-working husband, but we grumble because he's no more perfect than we are.
Aging parents who have poured their lives into ours, but we grumble because they've made mistakes.
Houses, cars, clothes, health, schooling, friendships — all blessings that we can so quickly transform into a reason for discontent rather than gratitude.
I deserve nothing — nothing but eternal punishment — but God in His grace has chosen to save me and bless me. May I be content and grateful. May He grant me the grace to live a humble life of gratitude, a life that glorifies Him, the giver. And may He grant us the grace to teach our children to be truly grateful — even when they get gloves.
"Now there is great gain in godliness with contentment, for we brought nothing into the world, and we cannot take anything out of the world. But if we have food and clothing, with these we will be content" (1 Timothy 6:6-8, ESV).
(Photo from Shutterstock.com)

« «