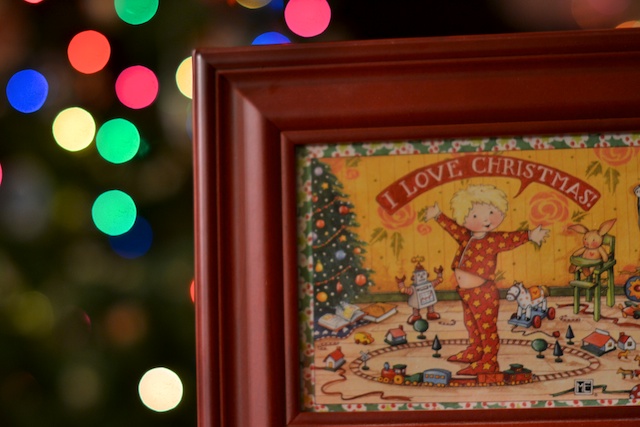 I love Christmas, and one of the things I love most about it is the music. I can't imagine Christmas without Christmas music! There's just so much to sing about!
Take some time this year to talk about some of the Christmas carols with your children. We grow up singing the familiar carols — Silent Night. It Came Upon a Midnight Clear. Angels We Have Heard on High. God Rest Ye Merry, Gentleman. Hark! the Herald Angels Sing. We hear and sing them so much that it's easy to start not really hearing their words. Have you really thought about what you're singing when you sing Joy to the World? It's an amazing song!
It's also easy for children to not actually hear the correct words in a song. Those of us who were in the Church when we were young can all probably recall an "aha moment" or two when we suddenly realized that we had been singing the words all wrong.
Pull out some hymnals or google "Joy to the World lyrics" online and print out the words. Sing one verse of the song together and then stop and talk about that verse. What is the song saying Jesus is?
Keep singing your way through the song.
What does Jesus do?
What should men do in response?
What does the rest of creation do?
What does He make the nations do?
When you've finished singing and talking about the entire song, sing the whole thing one more time — all together. Does anyone better understand what they are singing now? Let the children draw a picture to illustrate the song, if they want. Share with Daddy at the dinner table if you did this project while he was at work. You could even have just the children sing.
Try this for several days. Here's some other good carols to get you started:
Hark! the Herald Angels Sing
O Come, All Ye Faithful
Let All Mortal Flesh Keep Silence
Lo, How a Rose E'er Blooming
Of the Father's Love Begotten
And speaking of singing, if you haven't already been one of the almost 3 million people who have viewed this video, gather the kids around you and watch it! It will inspire you!
Thanks again to all those who joined us in our 30 Days of Bible Study for Busy, Busy Mamas (We'll definitely do it again!). And thanks to all you contestants in our Doorposts of Your House contest! You've inspired us. If you weren't at our Facebook party the other night, take at least a few minutes to look at some of the amazing photos folks sent to us. You'll be inspired, too!
Come back later today to find out who won the Busy Mamas' Bible Study giveaway! Happy St. Nicholas Day!

« «