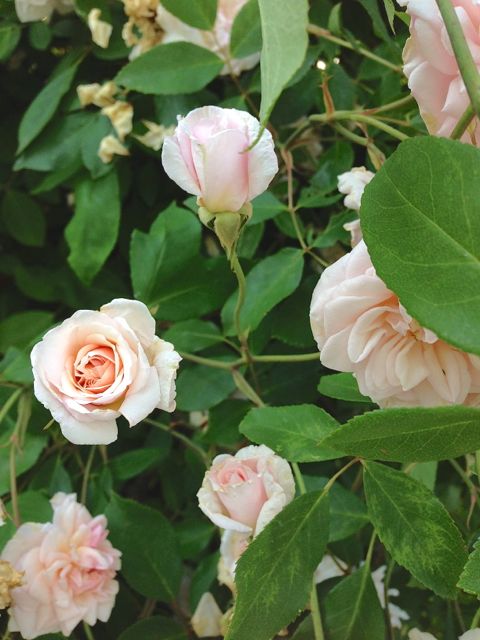 We're talking about moving . . . Almost eighteen years we've lived in this place. It was a miracle when we came here. We'd been stuffed into a tiny little house that was overflowing with children and business. God put us on this perfect piece of property with a warehouse-type structure already attached to the house. We just had to finish it. (The original owners had started adding that part of the building — as a good project to do with their boys — at the same time we had started our business fifty miles away.) God provided the means to rent and then buy this home that's seen so much of our family's history.
The place is filled with memories.
We're talking about moving because we've driven an hour each way to church for the past eighteen years (I know — it sounds crazy — but it's worth it), and this would cut the commute down to ten minutes.
We're talking about moving because we'd be on my daddy's property, and we'd be helping our son and his family before the tables turn and they help us finish out the rest of our lives.
We're talking about moving, and I know it's a good idea . . . but I'm already dreading the possibility of driving down our long gravel driveway one last time.
It may sound silly, but one of the things I'm most sad about leaving behind, if we move, is a bunch of plants. We've planted a lot of stuff on these seven acres, and the property feels like a scrapbook full of memories.
The pink dogwood that the kids gave me for Mother's Day several years ago

The black walnut tree that Daniel started from the huge old tree up the road — the road we always took evening walks on with the family

The dense stand of crocosmia that made it into so many farmer's market bouquets — those buckets of flowers that required unearthly wake-up times on summer Saturdays, but gave me lots of time with my hard-working kids.

The daffodils that I wait for each spring – ones that Joseph and John planted all along the driveway and more that Joseph dug from the pastures to plant under the flowering cherries and birches in our little grove.

Joseph's

pie cherry tree with fruit that glows like jewels when the early summer sun shines through them. Joseph earned that tree after finishing a special project out of Plants Grown Up. Now he is a plant grown up.

Bethany's almond tree with an assortment of special farm animals buried around it.

The willows along the creek, planted by our eldest, the boy who was patient enough and selfless enough to plant trees for the next generation of children to enjoy.

The purple-flowered tree, so sweetly given to me by a friend because she knew it would bloom every fall, right at the time of year when both my parents died within ten days of each other.

And . . . the Cecil Brunner rose bush. I can see it in all its glory as I sit here and write. We planted it in the little courtyard between the house and the office, and now it fills my view out the kitchen window with its fragrant pale pink buds. It's always looked like a place where all the little creatures in

Brambly Hedge

(one of favorite read alouds to calm children during middle-of-the-night asthma attacks) should have their weddings and picnics — tiny little buds unfolding into full-petaled blossoms.
Those little buds have decorated many years of June birthday cakes (they're early this year). They were gathered for tiny bouquets and stuffed into little nosegays that the girls sold at the local farmer's market. They formed the backdrop for a dress-up birthday tea with Johanna and her friends. That must have been at least a dozen years ago. Those girls have all grown up. One of them is my daughter-in-law now.
There was the year that John's oldest sister took our clippers to it. We were sure she'd killed my favorite rose bush. I thought of that bush many times as I made the choice to discipline my children when I would have preferred to just overlook something to keep the "peace". That pruning was just what our rose bush had needed, and it came back with a glorious showing in the spring.
We watched the rose bush out the window as Johanna's wedding day approached. Would any blossoms survive until the day? She wanted them in her hair and in her bouquet. We found some that were similar at a farmer's market, but they weren't the same. Then her great-aunt, 125 miles away, showed up on the wedding day with two or three last blooms from her bush to tuck into the bouquet.
All this sappy-sounding nostalgia of mine started last week when I took my oldest granddaughter out to show her the rose bush — because it was her mama's favorite. I was delighted; she loved the roses almost as much as her mama does. She loved the clippers even more. We picked a bouquet, and then I turned the clippers over to her, trying to remain calm as the barely-four-year-old daughter of my daughter happily snipped away at buds without leaving any stems on them.
I thought about heaven and how God gives us little glimpses of it here on earth. So many memories. So many riches. I thought about how fast time passes and about how there will be no passing of time in eternity. I will one day walk away from this house, these flowers, this land, and know that it has never been my real home. That home is still waiting, and I will give Him thanks for His gracious previews.

« «