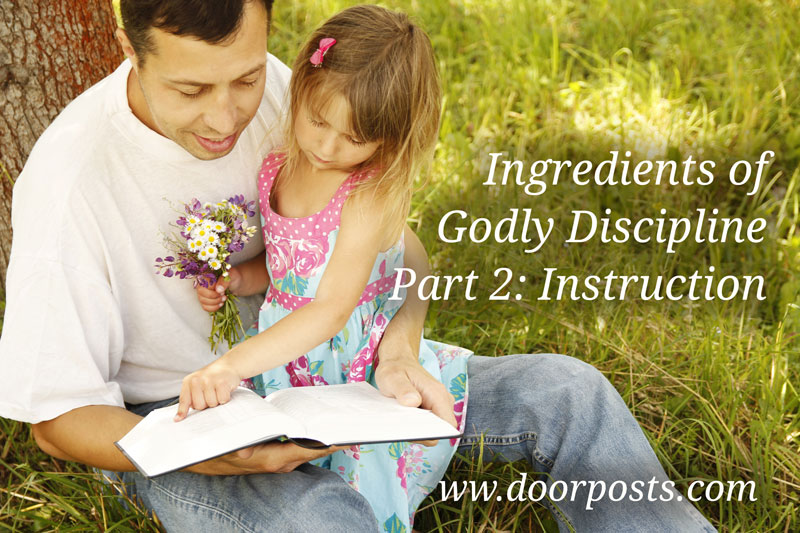 Why do we discipline? What is the point of our child-training efforts?
It's not ultimately about good behavior. It's not about the convenience of having well-behaved children. It's certainly not about giving out just deserts when children make mistakes.
Our first goal as parents should be shepherding our children into their own personal, growing, relationship with God. As God's representatives to our children during their early years, we're part of God's plan to bring our children into a saving relationship with Him and begin walking the path of Christian growth and maturity.
When we discipline, we're helping our children see themselves and their behavior in light of God's Word and then showing them the godly path forward.
This kind of discipline is not possible without lots of instruction that's grounded in God's Word. Here are six reasons why Bible-based instruction is so important:
1. Our children are simple and have much to learn.
Sometimes I get frustrated at my children for doing foolish things, but then I realize that they really don't know better. We need to teach them how to live, with the Bible as our guidebook. As David tells us in Psalm 119, "Your word is a lamp to my feet and a light to my path." and again in the same chapter, "The unfolding of your words gives light; it imparts understanding to the simple."
2. Teaching God's Word to our children is one of our most primary tasks as Christian parents.
Praise God that so many Christian parents are faithfully following the words of Deuteronomy 6: "And these words that I command you today shall be on your heart.You shall teach them diligently to your children, and shall talk of them when you sit in your house, and when you walk by the way, and when you lie down, and when you rise. You shall bind them as a sign on your hand, and they shall be as frontlets between your eyes. You shall write them on the doorposts of your house and on your gates."
3. God's Word is powerful to teach the truth and accomplish positive, heart-level change in people's lives.
"So shall my word be that goes out from my mouth; it shall not return to me empty, but it shall accomplish that which I purpose, and shall succeed in the thing for which I sent it." (Isaiah 55:11)
"All Scripture is breathed out by God and profitable for teaching, for reproof, for correction, and for training in righteousness,that the man of God may be complete, equipped for every good work." (2 Timothy 3:16-17)
"For the word of God is living and active, sharper than any two-edged sword, piercing to the division of soul and of spirit, of joints and of marrow, and discerning the thoughts and intentions of the heart." (Hebrews 4:12)
4. Instruction has the potential to reach our children's hearts.
Discipline administered without instruction (such as merely punishing or requiring an apology) may change our children's outward behavior, but it does not help our children grow. In Shepherding a Child's Heart, Tedd Tripp points out that we often reduce parenting to setting rules and then meting out consequences when those rules are broken. While consequences have their place, there is much more to godly discipline. Tripp says our child-training should be characterized by "rich, full communication" — words of encouragement, correction, rebuke, entreaty, instruction, warning, teaching, and prayer.
5. Instruction helps us connect our children and their behavior to the gospel of Jesus Christ.
Teaching our children what God's Word requires, though it is an impossible standard, is the way to prepare them to value and receive the gospel message. Again, Tedd Tripp speaks wisdom: "The focal point of your discipline and correction must be your children seeing their utter inability to do the things that God requires unless they know the help and strength of God." He also says "The child trained in biblical obedience is better able to understand the gospel. The power and grace of the gospel is most deeply understood, not by those who never face their biblical duties, but by those who do."
6. Knowing and walking in God's Word will be a source of tremendous blessing to our children.
"Praise the Lord! Blessed is the man who fears the Lord, who greatly delights in his commandments!" (Psalm 112:1)
"For the commandment is a lamp; and the law is light; and reproofs of instruction are the way of life:" (Proverbs 6:23)
"Receive my instruction, and not silver; and knowledge rather than choice gold." (Proverbs 8:10)
"If you know these things, blessed are you if you do them." John 13:17

So how do we make instruction an important part of our discipline?
We can make the effort to look beyond our child's behavior and discern the attitude of his heart. This may mean taking time to talk, ask questions, and listen until you learn his trust and understand his motives.
We should be ready to apply Scripture to their situation, whatever it may be. Show them what God's Word says. This means we need to know our Bibles!
Some discipline issues are not necessarily sin issues. At times, our children will make honest mistakes or exhibit immaturity typical for their age. In these cases, they may need instruction, but no further discipline.
As we instruct our children, we want to avoid "lecturing" to the point of frustrating them or leading them to tune us out. We should be able to succinctly explain what was wrong and what should be done differently in the future.
Instruction from God's Word is not just for when our children misbehave. We can teach our children stories and other truths from the Bible throughout the day. Scripture should form the underlying foundation of our family life and of our children's education as they grow.
Finally, as we instruct our children, let's remember that it's for their growth and for God's glory.

"And let us consider how to stir up one another to love and good works" (Hebrews 10:24)

P.S. We're still celebrating "launch week" for our new chart, Ingredients of Godly Discipline. Through this Wednesday, 8/19, you can choose a free bonus along with your chart!

« «