"Hear me now therefore, O ye children, and depart not from the words of my mouth" (Proverbs 5:7).
Do any of your children ever offer the excuse, "I didn't hear you," when they have failed to obey you?
A child is responsible to listen carefully any time his parents are speaking to him. Listening is part of showing honor, and is necessary if the child is going to be able to obey you. "I didn't hear you" should not be accepted as an excuse for disobedience.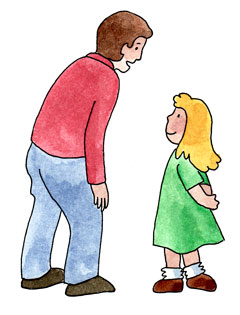 You can help your child listen by requiring him to look at you when you speak to him, and by having him repeat what you have said. This week's project focuses on careful listening.
Turn listening practice into a game. Before gathering your children together, write up separate lists of tasks for each of them. The tasks can include chores, silly and fun activities, or a combination of both. For example, a list for an 8-year-old might include: empty the wastebaskets, jump up and down five times, put your shoes away, run all the way around the outside of the house, and drink a glass of water in two gulps. Make a list for each child, giving a young child only two or three tasks, and older children more.
Read Proverbs 5:7 with your children. Talk about how important it is for them to listen carefully when you speak to them, so that they will be able to do what you say, and so that God will be able to bless them for their obedience.
Read each child's list to him. Have him repeat the list back to you. Then send him to complete his tasks. See how many of your children can remember and complete the entire list without any reminders. Praise each child who succeeds, and then tell everyone to head to the kitchen for cookies and milk (or an art project, board game, or other fun treat).
Since the Jewish festival of Purim just happened last week, try this traditional Purim activity as another practice session in listening. Purim is the holiday that celebrates the deliverance of the Jews from Haman's attempt to kill them.
Give each child a noisemaker or a pot or pan and spoon. Read the entire book of Esther to your children in a translation they will understand. (If your children are young, summarize most of the story, and just read chapters 3-7, or even less if necessary. The Jews read the entire book for this activity.)  Instruct your children to listen carefully for Haman's name as you read. Every time they hear his name, they should stamp their feet, blow their noisemakers, and bang their pots and pans. This is done to drown out the name of this evil villain who sought to destroy all the Jews.
If you want to learn more about Purim, read Esther 9:23-32, and look at this website for other celebration ideas. Act out the story of Esther with your children, make "hamantaschen" (Haman's Ears), or give gifts to the poor.
For the rest of this week, focus on helping your child listen to you. Memorize Proverbs 5:7 together. Ask him to look at you when you speak to him, have him repeat what you have said back to you. And be careful to model good listening by attentively listening to him when he speaks to you.
(If you're looking for today's giveaway, please scroll down or find it here.)

« «