"Oh give thanks to the Lord, for he is good; for his steadfast love endures forever!" (Psalm 118:1, ESV)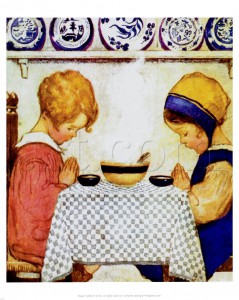 A long-time friend and sister in Christ shared some hard news with me yesterday, news that will profoundly affect her life and the lives of those who love her. In the midst of this trial that God has entrusted to her, she said something that we all need to remember, "I am where God has put me."
Whether the current means of testing our faith is:
A dirty diaper smeared all over the crib by a creative toddler or the reality of cancer invading our bodies, a child who doesn't seem to respond to any of our attempts to train and discipline him or a husband who has abandoned the family, a long line at the grocery store checkout with a flock of tired and cranky children or a long and challenging period of unemployment, God is in control.
Nothing separates us from His love.
Nothing takes Him by surprise.
Nothing slips past His sovereign control of all things.
Wherever we find ourselves, whatever circumstances we face, we are where God, in His grace, has put us. Because this is true, we can thank Him, knowing that He is there, too. He loves us. We can trust Him.
"For I know the thoughts that I think toward you, says the Lord, thoughts of peace and not of evil, to give you a future and a hope." (Jeremiah 29:11-12, NKJV)

« «