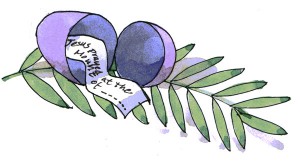 I'm excited! We're getting all the family together in the same place for Easter dinner this year! I'm having fun planning a treasure hunt for the little girls. I know it's getting pretty close to Easter Day, but at least a few of you are probably waiting until the last minute like me, and might still be able to use some ideas. I'll share what I'm going to do with our little girls, and then I'll also give some ideas for a treasure hunt with older children. (Sorry — this is a  l-o-n-g post!)
These Resurrection Sunday treasure hunts can involve colorful plastic eggs if you want to include the traditional Easter egg theme, or the eggs can easily be replaced with cute little wrapped boxes, tiny gift bags, etc.
FOR THE LITTLE ONES
You will need:
A ball or skein of colorful yarn
Little treats and surprises that you can tie in with the Easter story (see examples below)
Plastic eggs or little gift boxes or bags
Basket of goodies at end of hunt
Using a ball of colorful yarn, weave your way through your house or yard, leaving a trail with the yarn as you go. Go upstairs and wind through some rooms and back down again. Go inside a closet or under a bed, into the shower, and into the refrigerator. Be creative!
Along the way, hide little surprises in different places, with the yarn leading to the surprise. When the children reach the gift, stop and talk about it. Read the story, eat the food or tuck it into a basket to save for later.
Here's what I have gathered to use in our hunt. (I got most things at the Dollar Store and a Christian bookstore.) I'm going to hide them in this order so that we can talk about the Easter story in the order it happened.
A roll and some grapes on a pretty plate (Jesus sharing Passover with disciples at the Last Supper)
An egg with 30 dimes in it
4 plastic eggs with a Lindt chocolate lamb in each (Jesus like a lamb)
A plastic rooster (the rooster that crowed three times when Peter denied Jesus the night before His crucifixion)
Crosses made out of pipe cleaners and hung on ribbon to make kid-style necklaces (the cross that Jesus died on)
Jesus Lives (a Happy Day book that tells the main events of the crucifixion and resurrection)
Yellow silk lilies – one bunch for a dollar at the Dollar Store, cut apart so each girl gets a flower (the garden cemetery where Jesus was buried)
Flower-shaped glitter stickers (more flowers in the garden cemetery)
4 eggs that each contain a chocolate covered peanut cluster (the stone that was rolled away from the empty tomb)
Story of the Empty Tomb (an inexpensive Arch book, that tells about the women going to the tomb and finding it empty)
One large empty egg (because the tomb was empty) or an egg with a resurrection roll or resurrection cookie inside
A "Magic Grow" lion (the kind you put in water to make them get larger) and a bowl of water for him to grow in (because Jesus in the Lion of Judah)
4 paper crowns (because we are children of the King and we reign with Him)
Instead of treats, you could also just hide pictures that illustrate the Bible's account of Christ's crucifixion and resurrection. These could come from a coloring book, a worn or thrift store Bible storybook or an inexpensive Arch book that you don't mind cutting up, photocopies of pictures from storybooks (I don't think this violates copyright laws as long as you own the book and are using the copies only for your own family's use), or simple pictures you draw yourself. As the children reach each picture, you could stop and talk about the portion of the story.
At the end of the yarn trail, I plan to have a basket with more goodies:
An Easter color and sticker book
Crayons
Plastic eggs that contain fresh strawberries and dried fruit pieces (for the sugar-sensitive little girl), and pastel colored M&M's
Play-doh in plastic eggs
Chirping chicks and wind-up hopping chicks from the Dollar Store
Lamb cookies (these look so fun!)
Bubbles (in a bubble bottle that is shaped like a princess with a crown on, because our girls, when they trust in Jesus, are princesses of King Jesus)
Bath bombs (the big balls that fizz when you place them in the bath water) For some reason, baths at Nana's house are big entertainment. These should make it even more exciting!
If I had known earlier that we were going to all get together, I would have spent some time on Christian Book Distributors' website to find Easter stickers and storybooks, or Bible stories on CD or video.
FOR OLDER CHILDREN
Use all or some of these verses, depending on the age and attention span of your children. The bold words are for your use; don't bold these in your clues. (You can print out a ready-to use sheet of the verse clues here.) Or, if your children are old enough, just write the references on slips of paper, and let the children look up the verses in their Bibles as they search.
Give the children the first clue, and it will lead them to the next. As they find the clues, they will be reviewing the main elements of the Easter story. Review the story with them as you go.
Mark 11:8 "And many spread their garments in the way: and others cut down branches off the trees, and strawed them in the way." (Hide the next clue in a clothes closet or in the branches of a tree.)
Matt. 26:15 "And said unto them, What will ye give me, and I will deliver him unto you? And they covenanted with him for thirty pieces of silver." (Hide the next clue under a piggy bank or in a change jar.)
Luke 22:39 "And he came out, and went, as he was wont, to the mount of Olives; and his disciples also followed him." (Hide the next clue under a can of olives.)
Matt. 26:26 "And as they were eating, Jesus took bread, and blessed it, and brake it, and gave it to the disciples, and said, Take, eat; this is my body." (Hide the next clue where you keep your bread.)
Matt. 27:29 "And when they had platted a crown of thorns, they put it upon his head, and a reed in his right hand: and they bowed the knee before him, and mocked him, saying, Hail, King of the Jews!" (Hide the next clue in a thorny rose bush outside.)
John 19:17 "And he bearing his cross went forth into a place called the place of a skull, which is called in the Hebrew Golgotha" (Hide the next clue with a cross in your house. This could be a literal cross or just a place where a cross is formed by intersecting boards or lines.)
Matt 27:48 "And straightway one of them ran, and took a sponge, and filled it with vinegar, and put it on a reed, and gave him to drink." (Hide the next clue under the sink where a sponge is stored or in the cupboard where you keep vinegar.)
Matt. 27:45 "Now from the sixth hour there was darkness over all the land unto the ninth hour." (Hide the next clue in a dark closet or basement.)
Matt.  27:59 "And when Joseph had taken the body, he wrapped it in a clean linen cloth." (Hide the next clue in the place where fabric is stored for sewing or where towels and sheets are stored.)
John 19:41 "Now in the place where he was crucified there was a garden; and in the garden a new sepulchre, wherein was never man yet laid." (Hide the next clue in the garden or in outdoor flower beds.)
Luke 24:1 Now upon the first day of the week, very early in the morning, they came unto the sepulchre, bringing the spices which they had prepared, and certain others with them. (Hide the next clue in the spice rack or cupboard.)
Luke 24:2 And they found the stone rolled away from the sepulchre. (Under a large stone on your property, hide directions to where the treasure is hidden.)
End your treasure hunt with one surprise or with a basket or box of treats, books, videos, Bible-related games, or stickers, etc., like those described in the younger children's treasure hunt.
Have a blessed and joyous Resurrection Sunday!

« «