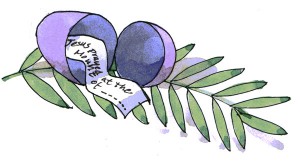 Next week, we'll celebrate Easter, remembering Christ's suffering, death, and resurrection. Here are some ideas for focusing your week on Christ and making it fun and meaningful for your family.
Act out the crucifixion and resurrection story, or stage a play with toys, felt figures, or stuffed animals.
Make your own grace garden or resurrection garden.
Try these "Get a Sense of the Resurrection" object lessons.
Make your own resurrection eggs, or have a treasure hunt that centers on the passion and resurrection story (we'll post a treasure hunt plan next week!).
Make these resurrection cookies or resurrection rolls.
Have a Passover dinner (Seder) with your family, or find a Christian/Messianic  one you can attend. Discuss with your children the ways that the Passover traditions point to Christ. We recently published a Christ-centered version of the Passover Haggadah, and you can find others online.
Jesus set an example by serving his disciples at the Last Supper. Do a Bible study on "Jesus as a servant." Read through one of the gospels and use this study worksheet to record each instance of Jesus serving others.
Do a Bible Study on "Jesus' response to suffering." Read Luke 22-23, Isaiah 53, and Philippians 2, and complete this Bible study sheet from Plants Grown Up.
Read Fifty Reasons Why Jesus Came to Die, by John Piper.
On Good Friday, darken your home to help everyone remember the death of Christ. Turn off or dim most of the lights and put a black tablecloth on the table. Have your children help remove any flowers or plants, and decorate with bare branches or stones instead. Leave the house dark on Saturday, and before everyone gets up on Sunday morning, redecorate with candles, plants, a bright tablecloth, and flowers.
Make a resurrection cake decorated to look like the empty tomb. We've enjoyed this tradition, sometimes decorating the cake with flowers and toy figures of the angel and women at the tomb.
What's your favorite Easter tradition? Please share in the comments!

« «