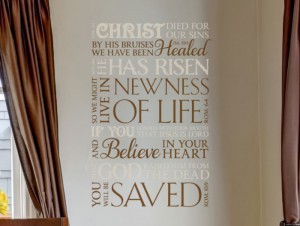 $75 Gift Certificate to WiseDecor Decorative Lettering and Wall Decals

WiseDecor is giving away one $75 gift certificate, good for any wall quotes or designs on their website.  They have an extensive collection of Scripture wall decals, which are excellent for home, office, and church décor.  Once applied, your wall decal will appear to be painted on.  Scripture on your walls can encourage you through those trying days, help you express love for your spouse (Song of Solomon anyone?), help you guide your children (and yourself) toward Christ-likeness, and edify fellow believers as they enter your home or church.
The team at WiseDecor commits to…
having each order created from scratch by their skilled and experienced designers in their Greensboro, NC design/production studio
having one of their NC-base design professionals always answer your phone calls and emails with care and respect as you seek their expertise on what you want to create
never charging an additional fee for customization, because everything they create is custom
shipping your wall decal within 2 or 3 business days after your order is placed
promptly refunding or exchanging any order within 30 days for any reason at all
Visit WiseDecor on Facebook and Google+.

« «