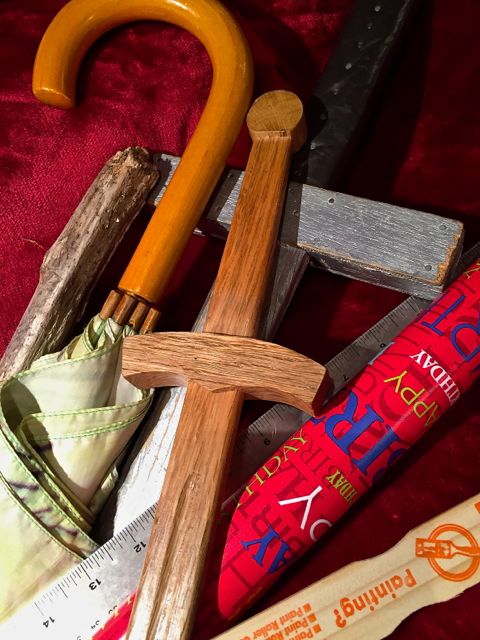 Wrapping paper tubes.
Garden stakes.
Umbrellas.
Scraps of lumber.
Tree branches.
Rulers.
Pool noodles.
Fingers.
What do they all have in common?
If you have any boys in your house, you probably know. Most any innocent-looking item that is longer than it is wide can become a sword in the hands of a child who is eager and ready to do battle. No swords in the house? No problem. They'll just grab the nearest longish item and make do.
How willing and ready are we to do battle? God has given us a sword. It's part of the armor He gives us when we enlist in His great army.
"…and take the helmet of salvation, and the sword of the Spirit, which is the word of God" (Eph. 6:17).
The image is still quite clear in my mind. We're in the basement of our church parsonage. That's where we met for Sunday School. We're all perched on the edge of our seats, Bibles in hand, thumbs poised.
The teacher slowly, dramatically calls out, "Swords drawn." The tension mounts.
She gives a Bible reference. We squirm in our seats.
She repeats the reference.
A suspenseful pause.
Here it comes. . .
Here it comes . . .
"CHARGE!"
And the pages start flying! Who will find the verse first?
I realize as I write this just how powerful Mrs. Arvidson's lesson was each Sunday morning. Those weekly "Sword Drills" weren't just helping us learn how to find a verse in the Bible. They were telling us over and over, "This is your sword. This is your weapon against Satan. Know how to use it!"
The sword, God's Word, is our weapon against temptation, sin, and the devil. We need to know how to use it. But how often do we forget to even pull it out of its scabbard — or off of the shelf — to do battle? How much experience do we have in using it? How often do we go into battle unarmed, unprepared?
For all of the month of July, we're going to do a bit of sword practice. We're going to turn to Ephesians 6, and we're going to do some intensive, but simple, studying together. First we'll take a way-too-brief look at the early chapters of Ephesians to remember just how rich we are in Christ, and then we're going to look at how we should live in response to those great blessings. How should children live? In light of their responsibility, how should their parents live? How should workers and bosses treat each other? How has God equipped us so that we actually can live this way?
We'll look at each piece of the armor God has graciously given us, and we'll learn how to better wield that Sword of the Spirit, the living, active, piercing Word of God. Will you join me?
The lessons are designed for busy people, and especially, but not limited to, busy mothers, because I know  how hard it is to get the life-giving, wisdom-building Word of God into your heart and mind in a season of life when you so desperately need it! So, moms, please join me!
You should be able to finish a lesson in five to twenty minutes, depending on how involved you get. But don't keep the study all to yourself. Ask your husband if he wants to study along with you, or at least share what you're learning with him. Invite your teens to join you. Use the children's lessons (at the end of each lesson) to etch the truths of this chapter deep into the hearts of your children. Invite some friends to join us so you can all share what you're learning together.
All you'll need is a Bible, a pen, a notebook, a handful of colored pencils (or crayons will do in a pinch), and access to the internet for some lessons.
If you're a mom who is thinking Bible study is impossible at this stage of your life, I heartily encourage you to give it a try. You need the nourishment of God's Word! If you'd like some encouragement, read this post and this post for ideas that might make studying more feasible.
If you want to interact with other ladies who are doing the study, be sure to join the Busy Mamas Bible Study Facebook group. What happens on this page is all up to you! Questions, comments, photos, helpful resources, prayer requests — it's a place to encourage one another and share what we're learning.
If you are subscribed to the Doorposts blog, you'll get your first lesson early Friday morning and every morning after that for the whole month of July. If you aren't subscribed, be sure to do so in the right hand side column of the Doorposts blog, and don't forget to watch for a confirmation email in your inbox. You'll need to respond to that to start receiving your lessons.
We start the day after tomorrow! I hope you'll join us!

« «