"But he said to me, 'My grace is sufficient for you, for my power is made perfect in weakness.' Therefore I will boast all the more gladly of my weaknesses, so that the power of Christ may rest upon me" (2 Corinthians 12:9, ESV).
I've been thinking a lot about imperfection lately. I always do when we're trying to finish up a book and get it out the door to the printer. For the past several months, I've been working on revising For Instruction in Righteousness. We got the revision back from the proofreader a couple weeks ago, full of red marks and suggestions.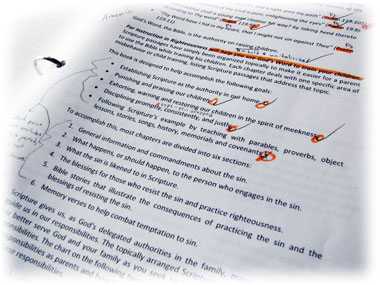 It took several hours to go through the proof copy, making changes in the document and checking off each correction. When that was finally done, I went back through the document several more times, watching for specific things — little inconsistencies, misplaced commas, misspelled words, wrong font sizes, incorrect Bible references, funny spacing issues. How many times can we comb through a manuscript and still find mistakes?
My last pass uncovered over two dozen little things that all our other readings had missed! Then Daniel took the document to do the things he has to do to send it off to the printer. He still found a couple more mistakes. It's always a little scary when we finally say, "OK, we're done. We're sending this off." How do we know if we found all the mistakes?
A month or so from now, the delivery truck will back up to the garage door and we will bring in a box of the new books, fresh from the printers (they always smell so good!). We'll take out the first book to send to Becky, who won the Doorposts giveaway. Then we'll flip open the next one, and because it has almost become a tradition, we'll most likely see on the page another boo-boo we missed!
What a reminder of my fallen state! No matter how hard I try, I will never be perfect. Our books will never be perfect. My family will never be perfect. My home will never be perfect. For now, I and all people and things around me are cursed with the results of Adam's sin.
But someday God will make me perfect. I can gain comfort and strength from that fact.
In the meantime, He is using the curse of sin to make me more like Jesus. I am tested and refined as I do constant battle with the results of the Fall in my own heart and in the world around me. My sin and failings humble me. I cannot live this life in my own strength, and I surely cannot earn my way into heaven by my own strength. I cannot be a perfect mother, a perfect wife, or a perfect anything else. I have to get up from my latest failure, confess my sin and weakness, cast myself on His mercy, and keep on going in the infinite strength of my Savior.
I won't do the job perfectly. He knows that. But He has chosen to work through me and through every other hopelessly fallen human being that He has called to follow Him. He has already won this battle. I am just called to be a faithful soldier, following His commands. I should not look at my weakness and give up. He takes my imperfect efforts and works out His will. His power is made perfect in my weakness. That should make me happy. He gets the glory. He is the one who brings any good from my labor, not me.

« «