"The effective prayer of a righteous man can accomplish much. Elijah was a man with a nature like ours, and he prayed earnestly that it would not rain, and it did not rain on the earth for three years and six months. Then he prayed again, and the sky poured rain and the earth produced its fruit" James 5:16-18, NASB)
I was recently privileged to spend two weeks with a mission team in Poland. I came home with a commitment to pray for fellow believers in other countries, and for those that God is still calling to a saving knowledge of the gospel. It is important to teach our children to pray. And it is important to help them have a compassion and concern for unbelievers. God chooses to work through the prayers of ordinary people, and He promises that our prayers, like Elijah's, will be effective.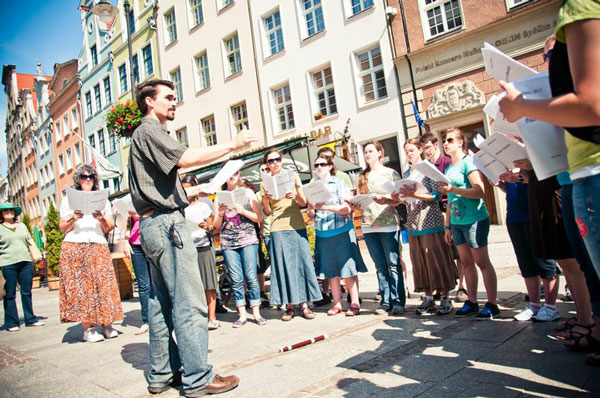 Please join with your children in praying for the following people in Poland. Children may not be able to go to a foreign country to give the gospel to others, but they can share with those around them, and they can pray for those who are far away. (Perhaps you would like to make a separate prayer card for each person so that you can cycle through the stack of cards during family worship or meal times.)
Wojciech – An amber artist in Gdansk who came to several of our concerts, responded to the message given, attended church while we were there and again since we've come home.
Mariusz – Another man who has visited the Gdansk church as a result of our evangelistic outreach.
Grazyna – A lady who has lived her entire life in Gdansk, and visited the church while we there.
Magda – A young woman who listened to our concerts with her two little daughters. She is a musician who interested in early music, and took our song book with her. Pray that the words of the songs will bring her to salvation.
A lady in a beige suit who listened to our singing, asked for literature, stayed and read it, and talked to Pawel. Pray that she will visit the church, and that God will continue to work in her heart.
Other people who visited the Gdansk church. At least ten local people visited the church the Sunday after we had been ministering on the streets of Gdansk.
Bogumil (Bubu) – One of the Polish pastors, who is moving with his family to Poznan this week.
Pawel – The pastor of the Gdansk church. Pray for his work with church members and his evangelistic work on the streets.
Jola, Pawel's wife, and her friend Kinga, who are homeschooling their children in a country with very few homeschooling resources available in Polish.
The churches in Wroclaw, Poznan, and Gdansk.
More about our visit to Poland on Thursday!

Photo by Evangelos – http://evangelos.in/

« «