When it comes to teaching our children to share, there is no simple "follow-these-five-easy-steps-and-you'll-have-a-child-who-shares" formula. Children are born with old sin natures; they inherited them from us. We shouldn't be surprised when they don't want to share.
Instead, we should thank God for the opportunity to help our children understand and appreciate what Jesus has done for them – and us. Scripture is full of commands that we and our children will never be able to obey, and that we often don't even want to obey. Without Jesus, we are without hope. We are dead in our sins and will never please Him.
Learning to share will bring our children face-to-face with this truth. God commands them to do something they don't want to do. They may even say that they can't do it. In response, we may be tempted to say, "Oh, yes you can, and you need to do it now, unless you want to be spanked." This may get the results we think we want – outward compliance and peace. But we won't reach our children's hearts with this approach. We may end up raising "good" moral kids who end up thinking they don't need Jesus, or kids who know they can't measure up to the standard and just give up in despair.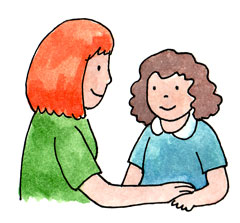 We should to take the opportunity to agree with him when he says he can't give up his own desires for the good of someone else. "You're right. You can't do this. Neither can I. We're both sinners. We can't obey God in our own strength. That's why Jesus had to die. He loved us so much that He was willing to die on the cross to save us. He has obeyed for us. When we trust in Him, He gives us new life and His strength to do what we can't do on our own."
Bickering and selfishness are ever-present sins of childhood. They offer us constant opportunities to encourage our children with the good news of Christ's death and resurrection. Facing their own sinful hearts and then grasping onto the love and sacrifice of our Savior will nurture a love that will, with the Holy Spirit's work in their hearts, motivate them toward true and grateful obedience.
Teaching our children to share involves training their hearts. Read them the words of Scripture. Ask them questions. Tell them of your own struggles and how God has worked in your life. Gently coach them through the steps of laying down their lives for someone else. Teach them to:
Make another person's needs and desires more important than their own. "Be kindly affectioned one to another with brotherly love; in honour preferring one another" (Romans 12:10).
Ask questions such as:
"Who does Jesus want you to treat as more important – this person or yourself?"
"How can you make this person more important than yourself?"
"What do you think he wants or needs?"
"Who made you and your needs more important than His own comfort and desires?"
"Guess what…there are a lot of times when I don't want to make your needs more important than my own. I want to do my own thing instead of stopping to help you or play with you or discipline you. But I love you and I want to obey Jesus because I love Him. He helps me when I'm tempted to be selfish. And He forgives me when I repent after failing to put you and others first."
"Can you obey this command by yourself? Who has obeyed this command perfectly and is ready to give you the strength to do it, too?"
Treat others the way they would like to be treated. "You shall love your neighbor as yourself" (Mark 12:31, ESV).
"What would you want if you were this person? How would you want to be treated?"
"There are times when I know I don't treat you the way I would want to be treated. I've had to ask many times for your forgiveness and God's forgiveness. Because Jesus paid for my sins, God forgives me and helps me when I pray and ask for His wisdom and strength. If Jesus loves me that much, I want to show that love to others."
"Who loved you enough to die for you? Are you ready to obey Jesus and show kindness to this person, after all the kindness He has shown you? He'll help you."
Obey God and trust Him with the results.
"Who controls all things? If something happens to this toy you are about to share, could God have kept it from happening?"
"You might not realize this, but it's really hard for me to lend things that I really care about to other people. I'm tempted to be afraid of what will happen to my things. I've had to learn to trust God, and to make obeying and pleasing Him more important than my stuff. He wants me to have my treasures in heaven, not here on earth. He has helped me learn to be more generous, and He has given me joy when I've been willing to obey Him and share."
"What do you think God might want to teach you in this situation?"
"Can you thank God for the love He has shown you by showing love and sharing with this person?"
Serve Jesus by serving others. "…As you did it to one of the least of these my brothers, you did it to me" (Matt 25:40. ESV).
"How would you treat Jesus?"
"How can you serve Jesus right now?"
"God has been teaching me to see all that I do here at home as a way of serving Him. When I use my time to serve our family, I am serving Jesus. I want to serve Him, because He loves me and takes care of me."
"Are you willing to serve this person in order to serve Jesus, Who gave up His life for you?"
Imitate Jesus. "Have this mind among yourselves, which is yours in Christ Jesus,  who, though he was in  the form of God, did not count equality with God  a thing to be grasped, but made himself nothing, taking the form of a servant, being born in the likeness of men" (Phil 2:5-7, ESV).
"How did Jesus become like a servant? What did He do for us?"
"How can you make yourself 'nothing' in this situation?"
Training our children means reaching their hearts with the good news of the gospel, not just requiring certain actions from them. It means:
Praying for and with our children
Reviewing the message of the gospel with them
Asking them leading questions
Patiently coaching them in sharing with others
The challenge of learning to share, like every other area of sin that God wants to root out of our lives, starts at the cross.

« «