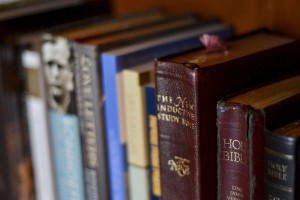 Today Bethany is back with some encouraging words about words!
One thing I am learning to appreciate more and more about the people and rooms around me is their general appetite for books. Since the beginning of time, or at least my time, my parents have modeled honest book obsession. This love would have burst out even if they hadn't intentionally tried to pass it on. It is a logical assumption in our house that every wall should have a border of bookshelves. If G. K. Chesterton thought it takes books for a room to have a soul, even our hallways and closets have souls and our attic is aggressively haunted.
Each of us kids have memories from the earliest days of sitting on the brown couch reading the Bible story Step-Step books, Father Fox and, of course, Tintin. Daddy tried to instill a healthy love of Tolkien starting at about age two and every six months there after, well…not quite, because there was also Bill Cosby and John Barley Corn and Scottish poems to attend to.
Learning to read became vitally important in a culture of rabid book worms. The most important thing, however, in all the ink and paper and wonderful smells of the world of words, was the Bible. Discovering and loving reading was most essential so we could more actively participate in family worship and Bible study on our own. Plus, our parents were concerned with ingraining regular Bible reading habits, which sometimes meant monetary rewards for faithful study.
I think sometimes it's easy to say, "I'm not a reading person." Maybe that's okay. You don't have to devour and hoard books (although you're missing out), but you should still care about words. God created them and creates us and everything around us through words. Jesus is called the Word. Words bring life.
Reading the Bible is a joy and command to all Christians. We are to be Word-centered. This makes understanding and using words one of the most important things we can possibly do. We should all be word people, even if we can't get through Les Miserables this summer.
The best way to instill a natural habit and love of the Bible and reading is to demonstrate it. Sometimes we just need a little peek into the world of words before we're sucked in and get stuck there all on our own. But us kids need that example. Get out The Book or simply a book and share how exciting it is. Do a joint study. Use spare moments to put something fresh in. I know when I feel like I'm wallowing and I don't possibly have an ounce of brain space or time to read, when I stop and do it it completely realigns and refreshes me.
Don't put reading and writing below math and science or other topics. We're more word people than number people. Learning how to wield and ingest words should be the central pivot of our schooling. Language isn't a chore; it's an unimaginable gift from God to man. We're still discovering just what it's capable of. Sit down with a book or a pen and paper and ask, what can these scribbles do? They will turn your life upside down if you let them.

« «