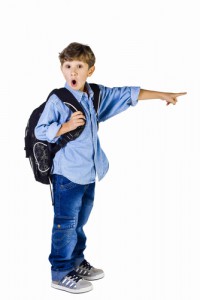 "He that covereth his sins shall not prosper: but whoso confesseth and forsaketh them shall have mercy" (Pr. 28:13).
It is important for our children to "put off" lying and to "put on" honesty. Honesty and humility go hand in hand. The humble person is willing to honestly acknowledge his sin. The proud person covers it. God blesses the humble; He resists the proud. The proud man lies to himself and is unwilling to accept responsibility for his sinful actions and thoughts.
We all struggle with the deception of our own hearts (Jer. 17:9). We lie to ourselves. We're tempted to justify our thoughts and actions. We lie to others, coloring the truth just a little to make ourselves look not quite so bad when we make a mistake, or fail to do what we committed to do.
A young adult who has matured physically while nursing the sin of dishonesty will have a difficult time growing spiritually, because he will not honestly evaluate his heart and actions in light of Scripture. Instead he will make excuses for his actions and deny the sinfulness of what he has done.
Read accounts in the Bible of those who tried to blame others for their sin:
Aaron, Ex. 32:1-24
Saul, 1 Sam 15:1-23
Esau, Gen. 27:36
What happened when these men chose to blame others for their actions? Did God accept their excuses?

Work with your child to keep a "journal of excuses" over a period of one week or more.  Every time you hear  him make an excuse or blame someone else, write it down. If he is old enough, have him record the excuses he has made. Review the list at the end of each day. What kind of excuses is he making? Who is he blaming for his own actions? Is he being honest when he makes an excuse? Is he making excuses that he has heard you make?

Help your child learn to acknowledge his mistakes and sins. Encourage him with the truth that you still love him no matter what he has done, and that God still loves him, because He loves His Son who died to pay for his sins, and who died to free him from the power of those sins.

(Photo from Shutterstock.com.)

« «