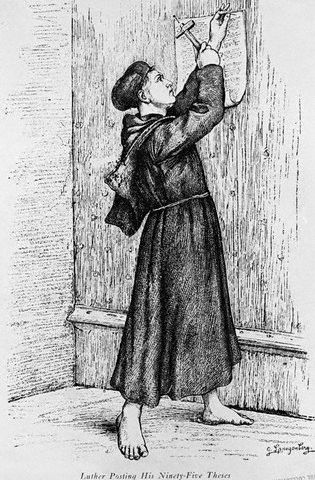 "Nay, in all these things we are more than conquerors through him that loved us." (Romans 8:37)
Today is Reformation Day! This is the day, 496 years ago, when Martin Luther nailed a collection of statements onto the door of the Castle Church in Wittenberg. These "95 Theses" were opposing various practices of the church, and they were the beginning of what is now known as the Protestant Reformation.
Over the years, we have been privileged to celebrate this day with our church family. We have studied and celebrated the lives of Martin Luther, John Calvin, Martin Bucer, the Hugenots, John Knox, and many others. We've learned so much about men who have been willing to trust God and stand for what was right! These are wonderful heroes for our children to meet!
Why not spend some time today remembering some other heroes of the faith — those mentioned in the twelfth chapter of Hebrews? This is a great chapter to read with our children! This "Hall of Faith" recounts the lives of some of the greatest heroes of Scripture — the kind of heroes we should want our children to imitate!
Get out a translation of the Bible that the children will easily understand. Read Hebrews 11 slowly, taking time to stop and review the stories of the men and women who are held up as examples to us.
Depending on the age of your children, you probably won't want to read the entire chapter. Look for a portion of the chapter that tells about people your children will be more familiar with and read those verses. Or, if your children are anything like ours were, they may really appreciate the dramatic potential of verses 32-38!
Take some time to help your children act out these stories. Pull out a few props and some simple costume materials (the old stand-by bathrobes, scarves, tablecloths, etc.). Let them practice a few times and then shoot some video of their drama that you can all sit down and watch together with Daddy later on.
Before you finish up, read Romans 8:35-39. Ask your children what can separate them from God's love? Do they think the heroes of the faith that you just read about in Hebrews 11 understood this truth?

« «