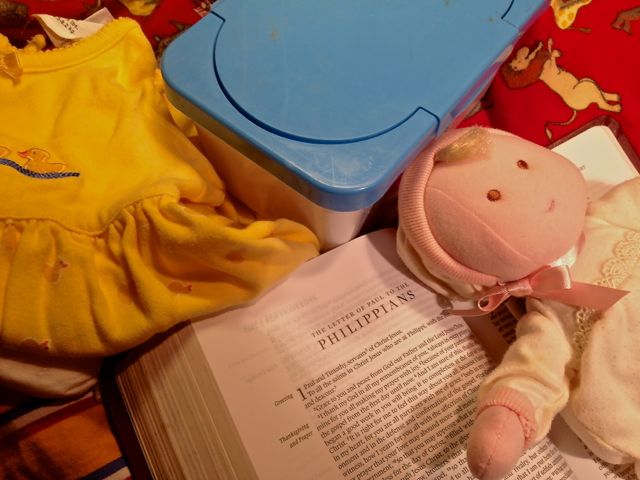 I can identify with Martha. How about you?
Take a minute to read this short account of Martha and her sister from Luke 10:38-42.
 Now as they went on their way, Jesus entered a village. And a woman named Martha welcomed him into her house. And she had a sister called Mary, who sat at the Lord's feet and listened to his teaching. But Martha was distracted with much serving. And she went up to him and said, "Lord, do you not care that my sister has left me to serve alone? Tell her then to help me." But the Lord answered her, "Martha, Martha, you are anxious and troubled about many things, but one thing is necessary. Mary has chosen the good portion, which will not be taken away from her."
Now look back over what you have read. What words stand out to you?
I can tell you what the Holy Spirit highlighted in that passage for me:
"But Martha was distracted with much serving."
Ouch.
It's so easy to be distracted by all the things we need to do! We're busy! Our days are filled with serving! There's so much to get done, especially with little ones in the house! Everyone needs us! It's so easy to become distracted by "much serving".
My dad, as he grew less active, enjoyed watching the busy activity in our household. Almost any time he came to visit he would inevitably say, "Ah, a woman's work is never done." (He would know. He grew up in a family of eleven children – seven of them boys.)
He was right. There's always something else to do. We're never "done".
So if we wait until we're done or even until we think we have time to read and study God's Word, we probably won't ever get around to it.
What did Jesus say to Martha when she started complaining about her sister not helping her?
"Martha, Martha, you are anxious and troubled about many things, but one thing is necessary. Mary has chosen the good portion, which will not be taken away from her."
Where was Mary? She was sitting at Jesus's feet, listening to his teaching. And Jesus was happy with that – even if it meant He had to wait a little longer for dinner. 🙂
Only one thing is necessary.
Our labor, our plans, our lists, and our moment-by-moment giving of ourselves for those God has put in our lives – they're all good. But in the midst of it all, we need to slow down long enough to listen to Jesus. When we do, all the rest of our activity and busy-ness will start to make more sense. We'll understand why we are doing what we're doing, and we'll be equipped to do it all with a heart that pleases God.
If you would like help making time to slow down and listen to God as He speaks to you through His Word, I would like to invite you  to join us  for our next "Thirty Days of Bible Study for Busy Busy Mamas"! Starting this Friday, November 1, we will be launching our study of Philippians 2. Lessons are short — most take just 5-10 minutes a day, and they're designed to help you learn how to really study the Bible.
If you are having trouble choosing that good portion in the midst of all your loving service to others, join us  —  on your schedule, whenever you can squeeze five minutes in each day!
If you have a friend who is struggling to get into the Word, tell her about the study and then hold each other accountable for completing the lesson each day.
If you're already sitting at Jesus's feet each day, but would like to fellowship with other ladies who are all studying the same passage at the same time, come and join us!
Five minutes a day might sound impossible to find in your day. If it does, here are some ideas to help you "make" the time. You don't even have to have five minutes all at one time! You may need to snatch them one minute at a time!
Five minutes a day might sound inadequate for any serious Bible study, but it's not! In five minutes, we can look at repeated words, lists, contrasts and comparisons, reasons, word meanings, and lots, lots more! (And we always come back to "What does God want me to do with what I've learned?")
If you do your math, you'll find that just five minutes a day for thirty days adds up to a whopping 2-1/2 hours, all spent studying and meditating on one chapter of the Bible. It's amazing how much the Holy Spirit can teach us in that much time!
Five minutes a day alone may sound like a dream that will never happen. You're right. 🙂 It might not happen for quite a few years if your house is full of little ones. You don't need to have a "quiet time" to study God's Word. What better way to disciple your children than to invite them to join you in your Bible study? And what better sounds than those of children interacting with God's Word?
As we study Philippians 2, each day's assignment will also include an activity for your children. You can do your study along with your children, go through your lessons first and then do their study with them, or you can just ignore those children's assignments! But they will be included for those of you who would like to use them.
For those of you who are involved in other Bible studies and don't plan to join us as we  study Philippians 2, you may still want to look at those children's assignments and incorporate them into your school day or family worship time.
So let's get ready. We start in just a couple more days!
Gather up some colored pencils, a pen or two, your Bible, and a notebook, put them where you'll be doing your study, and be ready to join us Friday morning. (See this post from an earlier study for more details if you're new to our 30-Day studies.)
If you would like to interact with others who are doing the study, be sure to join our "Busy Mamas" Facebook group. You can post your comments, your questions, pictures and videos of your kids' projects, other suggested study helps — whatever you think will help us all in our study together!
If you're not already receiving these blog posts in your email inbox, be sure to subscribe to the blog (in the right column on your screen). Then you'll have your next Bible study assignment waiting for you when you get up each morning!
My prayer is that you will be encouraged as you see that it is possible to be a mother and still get the nourishment you so desperately need from God's Word. And my prayer is that we will all be changed by our time together in His Word.

« «