"If one member suffers, all suffer together; if one member is honored, all rejoice together" (1 Cor. 12:26).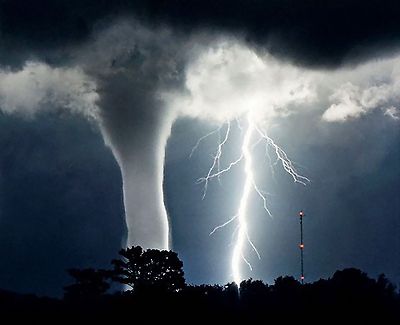 When one of our little ones stubs his toe, his whole body hurts along with that toe. If a child has a sliver in his foot, his entire body suffers.
So it's not hard to help our children understand how much we all hurt when we see our brothers and sisters in Christ hurting. Like his young body that suffers along with his throbbing toe, the Body of Christ suffers along with its hurting members.
The tornado in Arkansas this week left some of our brothers and sisters in deep pain. Some lost members of their families — husbands, daddies, sons, daughters — along with everything they owned. Because they are our brothers and sisters, we grieve along with them.
Let's take this opportunity to help our children learn to love "in deed and in truth".
Read Matthew 25:35-40 with your children.
"'For I was hungry and you gave me food, I was thirsty and you gave me drink, I was a stranger and you welcomed me, I was naked and you clothed me, I was sick and you visited me, I was in prison and you came to me.' Then the righteous will answer him, saying, 'Lord, when did we see you hungry and feed you, or thirsty and give you drink? And when did we see you a stranger and welcome you, or naked and clothe you? And when did we see you sick or in prison and visit you?' And the King will answer them,'Truly, I say to you, as you did it to one of the least of these my brothers, you did it to me.'" 
Help your children understand that when we care for those in need, we are giving to Jesus, who has given so much to us.
Below are links about three Christian families who are suffering as a result of the tornado:
The Gaffney family lost all their home and possessions:
Help for Mayflower, Arkansas Tornado Victims
Jeremiah and April Smith lost their two sons and their home:
Donations can be sent to ThatChurch, 901 E. Kiehl Ave., Sherwood, AR 72120. I'm sure letters and packages would reach them through this address as well.
The Rob Tittle family lost their husband/father and two daughters:
Condolences and memories on Facebook
Church address:  The Bible Church of Little Rock, 19111 Cantrall Road, Little Rock, Arkansas 72223, Attn: Tittle Emergency Fund
(If you are aware of other families who suffered severe loss because of the tornado, please let us know in the comments.)
Share what you feel is appropriate with your children. Then do some brainstorming together as a family. How can you help and encourage these dear families?
First, pray daily for them. Give your children individual names of surviving family members that they can pray for each day.
Then could you write letters and make cards to send them? Can your children write notes to the children in these families? Try to imagine being in their place. Write words that will truly comfort and encourage.
Can you work together to earn money to help them start over — a garage sale, a family-run car wash, the sale of a household item on Craigslist, yard work for neighbors, etc.? How can you work together to make money for these families?
Could you put together a special care package with books, music, toys, or other items that would bring encouragement to the family?
Work together to come up with a plan. Assign different responsibilities to different family members. Organize, work, pray, and send off your gift to the addresses given above.
Then keep on praying. These families need our love and support!
« «