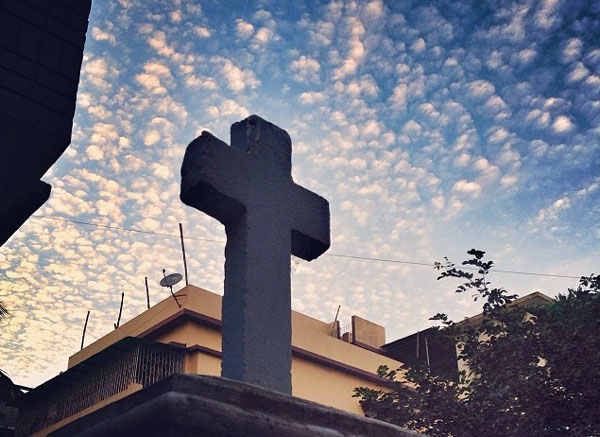 We've talked about why we need to take our children to the cross when we discipline them. We've talked about how our children may respond if we fail to give them the hope that is ours through Christ's death on the cross. Now how do we raise children who are secure in God's love? How can we help them rest in Christ's saving work on the cross, secure in His love, even while we help them acknowledge and set aside sin in their lives?
First, let's make sure we all realize that it's good for our children to want to please us, and it's good for them to want to please God. But if pleasing us is how they think they earn our love or God's love, it's not good. They should want to please us and God because they know they are loved, not in order to be loved.
Here are a few practical ideas to help us train up children whose faith is in Jesus, and not in themselves:
Love God with all your heart, soul, and might. Your children will know if you truly love God and desire to obey Him. And that love will greatly affect how you portray God and His love to your children. Live a life of joy in Christ, resting in the free gift of salvation that He has won for you, and basking in His love, rather than dutifully trying to earn it. Your children will be drawn to this loving God and Savior that you love and worship.
Help your children grow to understand how much God loves them. Talk about Him. Talk to Him together. Watch Him answer your prayers. Thank Him throughout the day. Point out the many demonstrations of His love and grace in your children's lives.
Help your children understand how much Jesus loves each one of them, and how He suffered and died in order to save them from their sins. Read the gospels. Even the littles of the family will understand much of the Gospels' story as it is read. Read The Jesus Storybook Bible that continually points to Jesus. Read the accounts of Jesus's life over and over again, and thank Him over and over for laying down His life to save you.
Let your children see you admit and repent of sin, as you rest securely in God's love, demonstrated in the gift of His Son, and in His forgiveness, won by Jesus on the cross.
When you are correcting a child, read a verse or passage that helps him understand what God says about his sinful action or attitude. Then be sure to follow up with another verse or passage that helps him understand what God has done about our sin. Read verses like these:
"…but God shows his love for us in that while we were still sinners, Christ died for us" (Romans 5:8).
"For God so loved the world, that he gave his only Son, that whoever believes in him should not perish but have eternal life"
  (John 3:16).  
Help your children learn to say, "I was wrong". Then, before any further discipline, assure them from Scripture that God has already taken care of this sin. It's already covered by the blood of Christ, and if their faith is in Jesus's work and not in their own, nothing is going to separate them from God's love. He loved them enough to give His Son for them. He's not going to stop loving them because they have sinned. Read verses like these:
"There is therefore now no condemnation for those who are in Christ Jesus" (Romans 8:1).
"In him we have redemption through his blood, the forgiveness of our trespasses, according to the riches of his grace, which he lavished upon us, in all wisdom and insight" (Ephesians 1:7-8).
Give the glory to God when you see evidences of His grace at work in your children's lives. "It's such a blessing to see God making you more like Jesus." "God has given you the strength to be patient with your brother, hasn't He? Let's thank Him," etc. Take the focus off of them and their performance and place it on God and His love and grace.
Remind them that Jesus was tempted just like they are, but without sinning. He did this because of His great love for them. And now He is interceding for them before God the Father. He will give them the strength to obey.
Make sure your child knows you love him, no matter what he does. Don't discipline in anger or harbor resentment after he has sinned, leading him to believe that he has to earn your love and acceptance with good behavior. Discipline promptly and lovingly, and assure him of your love. You will be picturing his Heavenly Father's love for him as you do this.
Pray with your child, that God would work in His heart and give him the desire and ability to obey Him. Thank Jesus for dying to pay for our sins, and for the Holy Spirit that He has given us, who teaches us and gives us the strength and ability to obey God.
Pray for wisdom and a discerning heart as you disciple your children. Lovingly instruct a child who seems to measure his worth by his performance rather than Jesus's. Pray that your children's hearts will be soft and open to the gospel. Pray that they will understand what God has done for them — because He loves them.
« «