In winter 2014, we hosted a Bible Drama Video Contest. We've kept all the videos on our site so you can enjoy them!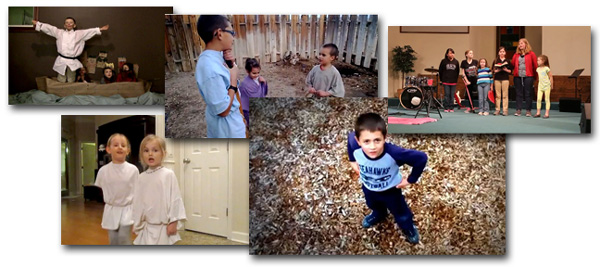 See the winning videos here: First place – Second place – Third Place – People's choice – Honorable mentions
You can still see the contest prizes here, including some of our favorite Bible picture books, music, and audio resources.
You may also enjoy our booklet (in print or eBook format) on family Bible drama, The Mighty Acts of God.
All videos submitted are displayed below. Click the video title or the "more" icon to watch a video.
[showcontestants id=183 postperpage=27 thumb=1 height=200 width=200 termdisplay=1 order=ASC orderby=date showtimer=1 showform=1 view=grid]
Bible drama is one of the best ways to get your children excited about the Bible, especially when they are young. Simple Bible drama and skits can benefit your whole family in so many ways:
Young children pay better attention to Bible reading times and listen for details.
Young children understand the stories better.
Children remember stories better.
Children see the pattern of God's faithfulness throughout history.
Children more clearly perceive the character of God.
Children see the consequences of man's decisions.
Children think through and better understand Scripture passages (such as the Proverbs).
Drama engages the more active child or kinesthetic learner.
Drama brings the Bible to life! Children realize that the people in Scripture were real people living real lives, just like we are.
Family memories are created as everyone learns and plays together.
We hope you and your family will enjoy these videos and give Bible drama a try!

« «