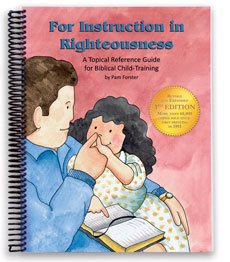 Today we're celebrating as we send the revised and expanded 3rd edition of For Instruction in Righteousness off for printing!
The new books should be printed, bound, and delievered within four to six weeks, and we can hardly wait to get them. If you win today's giveaway, you'll have to wait along with us, because we'll send you the first copy that comes in the door!
For Instruction in Righteousness is a topical Bible for parents, including hundreds of verses on over 50 areas of sin. But it is more than just a topical Bible…
Most chapters include all of the following:
What the Bible says will, or should, happen to a person who sins in this way.

Ideas for discipline that parallel these Biblical consequences.

Instructions the Bible gives for repenting of this sin (newly added to this edition!)

What the Bible likens a person to when he indulges in this sin, and ideas for practical object lessons using these examples.

How God blesses the person who resists temptations to this sort of sin.

Parallel ideas for "rewards" and encouragement for children who show progress towards overcoming this sin.

Stories and people in the Bible that illustrate obedience and disobedience in this area.

Fully quoted memory verses.

Appropriate for all ages!
We want our children to understand that "right" and "wrong" are absolutes, based on God's standards, not ours. If we train our children to submit to the authority of God's standards, those standards will not change when the children grow up and leave the authority of our homes.
We don't want to discipline in anger; we want to show grief over the child's sin, and we want to lead him to true repentance.
When we discipline, we want to picture for our children our heavenly Father's holiness and His mercy. That is why we went to the Bible and started studying.
(See For Instruction in Righteousness on our website for sample pages and a complete list of topics covered.)
To enter today's giveaway, please share about this blog again, online or off, in whatever way you like. Write one comment on this post and tell us how you shared. (Here are some sharing ideas.)
To qualify to win, you must also be a follower of this blog in some form (email subscription, RSS, or Google friend connect). All entries also count towards the final grand prize!

« «