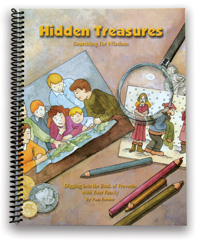 Today's giveaway is a copy of Hidden Treasures, a tool that will help you study the book of Proverbs with your family.
Hidden Treasures is full of ways you can study Proverbs as a family, with ideas for young children, older children, or all ages together.  Besides study ideas, this book also contains 90 illustrated proverbs for you to identify. Read through each chapter of Proverbs with your family and find them! This book contains a wealth of material for your family worship times.
Hidden Treasures Contains:
90 prize-winning illustrated Proverbs from Doorpost's Proverbs Illustrating contest (Over 500 drawings were entered!)
Instructions for many different topical studies in Proverbs
Suggestions for using the drawings in family worship while reading through Proverbs
Charts for recording your findings
Chapter-by-chapter notes and study suggestions for reading through Proverbs with your family.
Special activity and object lesson ideas
Plans to help you apply what you learn
Proverbs to memorize
Resource list of other commentaries, books, and audio to help you dig even more out of Proverbs
Proverbs was written to young people, to guide them in the right paths. Godly wisdom is the most valuable possession our sons and daughters will ever own!
To enter today's giveaway (one entry allowed per person):

Leave a comment on this post sharing a verse from Proverbs that you are applying (or want to apply) in your household. Please type the verse or copy it from BibleGateway.com, and paste it in your comment.
As an example, Katelyn and I have been making a greater effort to pray for God's guidance as we start each day and make our lists at work or at home. This is partly inspired by one of my favorite verses, Proverbs 16:3:
"Commit your work to the LORD, and your plans will be established."

« «