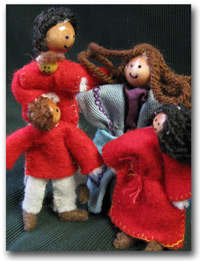 We wanted to give our girls a doll that would encourage them to act out godly themes in their play, and that would help them start to understand the description of a virtuous woman in Proverbs 31. We also want to teach our daughters basic sewing, cooking, and craft skills.
Ruby is a small pocket-size doll that you and your girls can make together. She is easily made (even by those of you that declare yourselves uncrafty!) with pipe cleaners, wooden beads, felt, and yarn. (Sewing techniques and the included Bible studies are appropriate for young ladies age 6 and up.)
After your daughter brings Ruby to life she can make her a pocket-sized family (we supply enough pipe cleaners and wooden beads for her husband, five children and a baby)! These little dolls can stand up and bend into different positions for hours of creative play.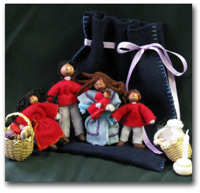 After making the dolls, your daughter can go on to learn simple basic homemaking skills as she makes:
Ruby's real purple silk dress
Ruby's tapestry coat with glittery hand embroidery
A tiny market basket full of dough-art fruits and vegetables
A batch of bread sticks for your dinner and tiny loaves of bread for Ruby's market basket
A miniature basket filled with real combed wool, a tiny drop spindle, and colorful wool yarn
Scarlet winter clothing for all of Ruby's family
Miniature gardening tools for Ruby to use in her vineyard
A tiny dough-art candle holder that will hold a real birthday candle
Tiny, real linen sashes for Ruby to sell to the merchants
A velvet drawstring bag for storing Ruby and her family
To enter today's giveaway:
Share about this blog, online or off, in whatever way you like. Write one comment on this post and tell us how you shared.
Here are some sharing ideas. If you've already shared on Facebook or Twitter, it's okay to share again. Also, If you've been here since day one and already shared every way you can think of, you can say "already shared" and we'll still count your entry!
To qualify to win, you must be a follower of this blog in some form (confirmed email subscription, RSS, or Google friend connect).
We're three days from drawing a winner for the final grand prize!

« «