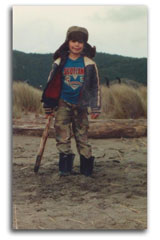 Love stories are always fun, aren't they? I would like to share a few of my favorite love stories with you on this blog. Because my son Joseph and his dear wife Hannah are about to celebrate their first anniversary, I'm going to start with theirs.
Joseph has always known what he's wanted in life. He wanted to show up three weeks earlier than his due date (thanks, Joseph!), and just about joined us in the old VW van before we could get to the midwife. He wanted to get places in a hurry, and always had the bruises and scabs to prove it. He wanted what he wanted now, and graciously provided the motivation for us to design our first "If-Then Chart." He wanted to tease his sisters unmercifully, and somehow won their undying affection even while he tortured them. He wanted to fill the house with music and flowers, and worked hard enough to very successfully accomplish both goals. So it didn't surprise us when he knew, at the tender age of 13, who he wanted to marry.
But he was going to have to wait! He knew that it wasn't the time to win that young lady's heart. We had prayerfully prepared him for the time when his opinion of girls would change. He knew his job was to protect the heart of this precious little lady, and that he had no right to pursue any romantic interest until he was actually prepared to  marry.
To help matters, while our two families shared a beach vacation, Hannah's alert father also took Joseph aside and let him know it wasn't the time for romance. He would be keeping his eye on him.  So Joseph spent the next few years doing what God had called him to do in that season of life – growing in godliness and his knowledge of God's Word, honing his talents and skills, serving his family and his church, and becoming the godly man that would be ready to love and lead such a lady.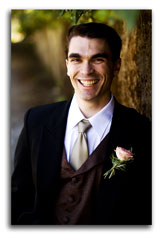 Joseph practiced the piano. Up the street, Hannah also practiced the piano. He grew and sold flowers. Up the street a bouquet — for Hannah's mother — often sat on the dining room table. He worked for the family business. Hannah's daddy watched him in action.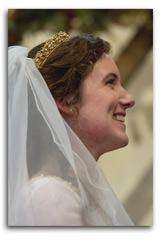 Our families spent a lot of time together. We picked berries together, weeded gardens together, made music, shared vacations at the beach, played games, attended Civil War reenactments, played in piano recitals, ate ice cream cones and hot dogs and smores and spaghetti, picked flowers for farmers' markets, made and delivered bouquets, packed Doorposts orders, made the same one-hour trek to church every week, and even had "fun" butchering chickens together!
But Joseph waited — not exactly patiently, but he di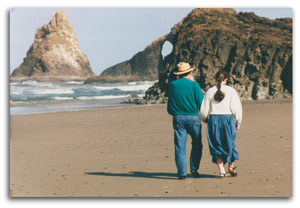 d wait. He matured in his walk with the Lord. He read books, listened to counselors, worked hard, saved money, and prepared for his vocation, all while honoring our wishes and those of Hannah's parents. He chose to protect Hannah's heart and his own by not initiating a relationship before he was prepared to lead a family.
Hannah, who was also willingly submitting to the counsel of her parents, spent the next years becoming an even sweeter, more godly little servant. Her discretion was beautiful – one of the most precious gifts a young lady can give her future husband (and mother-in-law!)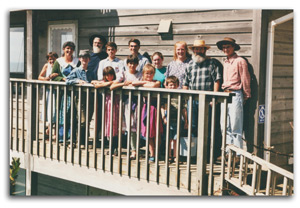 In the context of family and church gatherings, Joseph and Hannah learned more about each other. Hannah recognized Joseph's tender heart, and Joseph admired Hannah's sweet servant's spirit. Joseph benefited from Hannah's discipline, and Hannah delighted in Joseph's spontaneity.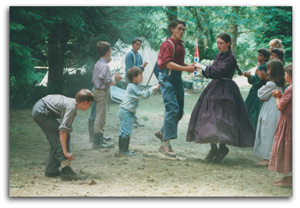 At last the day came when Joseph was set free to win Hannah's heart. Before he left for a trip to Virginia, he wrote a letter for Hannah and left it with her parents. While he waited to board the airplane back home, Hannah's parents were sitting in a restaurant watching her read his letter, and rejoicing that the "time for love" had finally arrived. The months that followed were full of flowers and music and letters, and a ring that sealed the engagement at Grandpa's property where Joseph and Hannah had shared so many other good memories.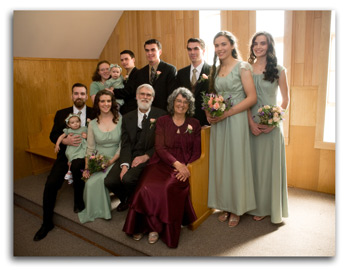 The pastor that officiated at the wedding teased that Joseph bought the engagement ring for Hannah when he was six years old. It wasn't quite that early, but Joseph did wait a long time for his bride. The wedding was pure joy – one of the happiest weddings I can remember attending. What a sweet moment to watch two dear souls, so patient and so loving, so committed to serving the Lord, take hands and pledge themselves to each other. Every time I looked at little Hannah gazing up so happily into my son's eyes, I started to cry, thanking God for His love and mercy, and for blessing Joseph with such a dear lady. Their first kiss was followed by a precious hug, a hug that spoke so clearly of the purity of their courtship and the tenderness of their love.
And now a year later, in God's providence, they are moving into the quaint little A-frame that Grandpa built on his property, the same property that witnessed so many of Joseph and Hannah's childhood and courtship memories, the same place where my John proposed to me, and where Joseph finally got to ask Hannah to be his wife. Grandpa and Grandy don't need their earthly house anymore. They've joined that great cloud of witnesses, and I'm sure no one could be happier to see who's settling into their old home.
It's a love story that both families have loved being a part of. We thank God for His grace, and for children who sought His guidance and happily submitted to their parents' counsel. Their love is founded on Christ, a foundation that will never falter, and for that we offer God our humble praise.
"Oh sing to the Lord a new song, for he has done marvelous things!"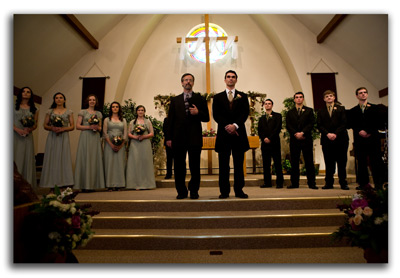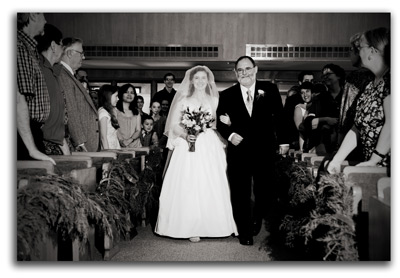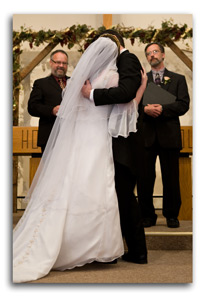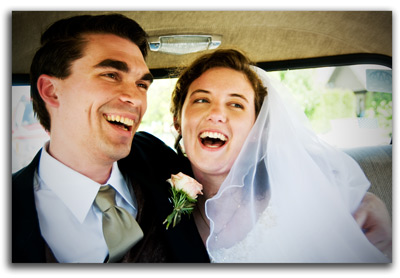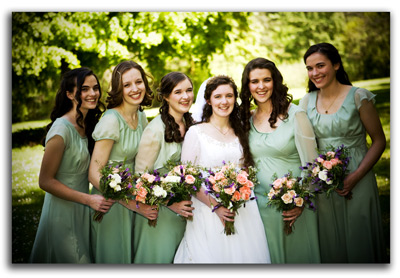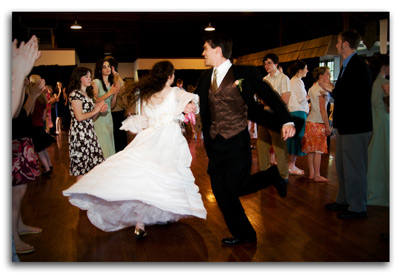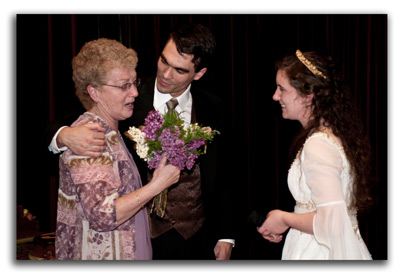 Hannah gave her bridal bouquet to Grandy, our grandma who passed into Jesus' presence only a month after the wedding. She has been a great blessing to our family, and you can read our tribute to Grandy here.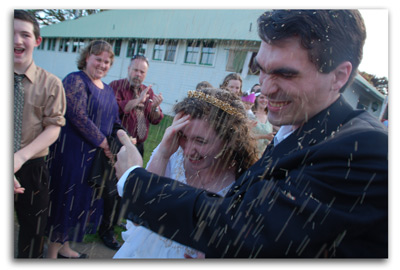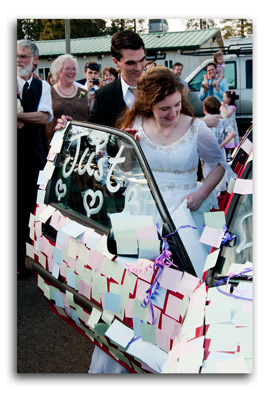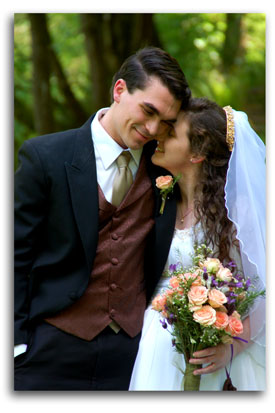 Together at last!

« «