"And all these blessings shall come on thee, and overtake thee, if thou shalt hearken unto the voice of the Lord thy God. Blessed shalt thou be in the city, and blessed shalt thou be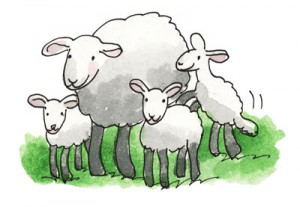 in the field. Blessed shall be the fruit of thy body, and the fruit of thy ground, and the fruit of thy cattle, the increase of thy kine, and the flocks of thy sheep" (Deuteronomy 28:2-4)
God delights in blessing His children! What did God promise the Israelites, in Deuteronomy 28, if they listened to His voice and obeyed His commands? "All these blessings shall come on thee, and overtake thee." I love that picture. I can just imagine those blessings chasing after the Israelites, rushing to catch up to them, and joyfully grabbing hold of them and overtaking them!
Help your children understand how God blesses obedience. A short study of Deuteronomy 28 and some picture drawing will deepen their understanding.
Make or purchase some sort of empty books that your children can draw pictures in. This can be as simple as several pages of paper stapled together to form a book or a folder or notebook with sheet protectors in it that drawings can be inserted into. Or you might choose to invest in spiral or bound sketchbooks or empty journals. The book should have at least 18 pages in it. You will want at least 30 pages if you choose to have your children illustrate the entire chapter.
Spend several sessions reading portions of Deuteronomy 28 aloud to your children. Verses 1-14 explain the many ways that God promised to bless the Israelites if they chose to obey Him. Verse 15 then opens with, "But…" and goes on to explain the curses that would come if they chose not to listen to God and obey Him. God wants to bless us and will do so when we obey, but He will ultimately curse those who choose to rebel against Him.
Read and discuss Deuteronomy 28:1-2 together. Then choose which level of instructions you want to use with your children.
For very young children: Starting with verse 3, have them draw an illustration for each verse, using one page of their books for each verse. Consider reading from a translation that they will understand, and be ready to explain what the verses mean. (Use an online Bible commentary if you need help.)
For older children:
These instructions require your children to follow directions that might confuse younger children. The book, made with these directions, will contrast blessings and cursings on facing pages across from each other, while the simpler instructions (above) will result in a book that shows all the blessings at the beginning, with all the cursings afterwards. Read through the instructions and judge which version will work best for you and your children.
For older children, the first page (on the right) when the children open their books, should be the title page, and can be labeled "The Blessings and Cursings of Obedience and Disobedience." Number the rest of the pages in the book, starting with page 2 on the back side of the title page.
Deuteronomy 28:3 starts by saying that the people will be blessed in the city and blessed in the field. Have your children draw a picture to illustrate this statement. They should draw their picture on page 2, the back side of their title page. The following page, page 3 should be left blank. They will come back to this page later to illustrate verse 16 which says that those who disobeyed God would be cursed in the city and cursed in the field.
Next read verse 4, "Blessed shall be the fruit of thy body, and the fruit of thy ground, and the fruit of thy cattle, the increase of thy kine, and the flocks of thy sheep." Other translations besides the King James Version will probably be easier for the children to understand. The English Standard Version of this verse says, "Blessed shall be the fruit of your womb and the fruit of your ground and the fruit of your cattle, the increase of your herds and the young of your flock."
Talk about this verse. What does it mean? Help your children understand that God is promising the people lots of children, lots of produce from their gardens, and lots of babies animals from all their livestock.
Turn the page, and on page 4 of their books, have your children illustrate verse 4. Continue on through the chapter until you have read, discussed, and illustrated all the verses through verse 14. Illustrate the following verses on these designated pages:
Verse 5 – page 6
Verse 6 – page 8
Verse 7 – page 10
Verse 8 – page 12
Verses 9-11 – page 14
Verse 12 – page 16
Verses 13-14 – page 18
When you reach verse 15, have your children go back to the beginning of their books. Verse 15 warns, "But if you will not obey the voice of the Lord your God or be careful to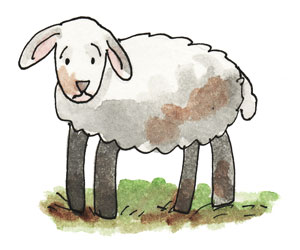 do all his commandments and his statutes that I command you today, then all these curses shall come upon you and overtake you." Explain that God promises to curse the Israelites if they disobey Him.
Verse 16 says that they will be cursed in the city and cursed in the field. Now your children can draw their illustration for verse 16 on page 3. It will be across from their illustration for verse 3, the verse that said the Israelites' obedience would be rewarded with blessing in the city and blessing in the field.
Read verse 17 next. "Cursed shall be your basket and your kneading bowl" (ESV). Did you read a verse like this in the blessing section of the chapter? Verse 5 says, "Blessed shall be your basket and your kneading bowl." Have your children find their illustration for verse 5, and draw the corresponding illustration for verse 17 on the facing page. (This should be page 7.)
Continue reading and illustrating the verses. As you can probably see, every verse doesn't match up exactly in order with verses 1-14. Follow this list carefully in order to match corresponding verses together in the books.
Verse 17 – page 7
Verse 18 – page 5
Verse 19 – page 9
Verse 20 – page 13
Verses 21-22 – page 15
Verses 23-24 – page 17
Verse 25 – page 11
Verses 26- 68 continue to describe the cursings that would come with disobedience. Use your discretion in deciding how much more of the chapter you want your children to illustrate. Older ones may want to continue reading and illustrating. If so, they can continue their illustrations, starting with page 19 and using both sides of all remaining pages in their books to illustrate these cursings.

When you are finished, discuss with your children which they would rather have – blessings or cursings? Are they going to obey or disobey God?

Note:

With older children, you may want to take time to address the fact that God brings difficulties and trials into the lives of those who obey Him. We can't know all His reasons, but we do know that He uses hardships to bring glory to Himself and to help us grow, and that He does work all things out for our good.

God also does good things for bad people. He is so gracious, "He causes his sun to rise on the evil and the good, and sends rain on the righteous and the unrighteous" (Matt. 5:45). He doesn't simply bless those who obey Him and curse those who disobey Him. We can be thankful for that, because none of us obeys God completely. We all fall hopelessly short and deserve nothing but cursing. But God in His grace chooses to save those that He draws to Himself.

God does not mercilessly destroy every man who fails to obey Him. He shows grace and longsuffering. John Calvin points out that God's blessing of His followers "does not prevent Him from diffusing His bounty promiscuously over the whole human race." He created man; He desires to preserve him and shows great patience and mercy to him.

The unbelieving man has no true capacity to fully enjoy what God chooses to bestow upon him. His temporary enjoyment of earthly blessings will end in eternal judgment. But those who obey God are those who can truly enjoy His blessings and will continue to do so through all eternity. "…In thy presence is fulness of joy; at thy right hand there are pleasures for evermore" (Psalm 16:11).

« «