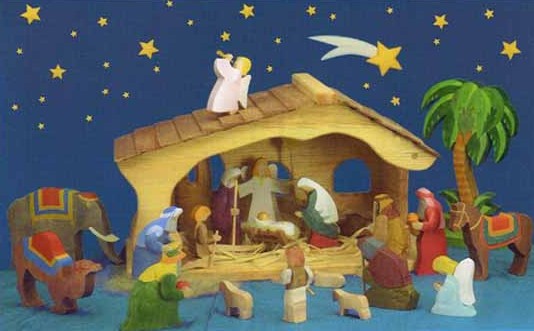 It's December! Time for Advent! Use the days leading up to Christmas Day to help your children get excited about the story of Jesus' birth.
A nativity scene or creche is one simple way to point children to the story of Jesus' birth all through the season of Advent. Pull out a sturdy set of nativity figures — ones made of plastic, wood, or even cloth. These should be figures that the children can play with without the risk of them breaking easily. Put all the figures into a basket or tin. Each day hide one figure somewhere in the house where one of the children will be sure to discover it. Hide Mary in the laundry waiting to be folded, or Joseph in the silverware drawer. Tuck a sheep under someone's pillow during the night, or a cow in a cereal bowl at the breakfast table. On some days hide the figure later in the day, so suspense builds as the day progresses.
Think about which figures you want to hide first. Do you want to start with Mary and then follow with the angel who came to her? Or do you want to start by filling the stable with the animals? Save baby Jesus until Christmas morning. You may want to save the wise men to hide on the days between Christmas and Epiphany (January 6), the day that is traditionally celebrated as the day the Magi visited the baby Jesus. Hide the figures in an order that helps to tell the Christmas story as it really happened.
When the child finds the figure, he can tell everyone where he found it, and then place it in the gradually-growing scene that you have started on a book shelf or table top. Stop and read a portion of the Christmas account from the Bible with the children as the figure is placed, or read the passage together at the end of the day, telling Daddy about where the figure was hidden and who found it.
Your nativity set will probably not have enough figures for every day of Advent. This gives you the opportunity to throw in a few surprises along the way! Count how many figures you have and subtract that number from 25. If you have 12 figures, you will have 13 days to hide other things. If you have 10 figures, you will have 15 days, etc.
Here are some ideas for fun, family-centered surprises to hide:
A recipe for favorite Christmas cookies to make (and sample) together
A Christmas video and some packages of microwave popcorn
Materials for a Christmas craft project
The first clue for a treasure hunt meal, which leads to more clues and a festive meal at the conclusion of the hunt
A new or old favorite Christmas story book to read together
An ornament for each child to put on the tree
A note that leads to a collection of materials for making hand made gifts for friends or for Grandma and Grandpa
A map that leads the children to a special snack, such as hot chocolate with marshmallows
A flyer or advertisement for a special concert, program, or show that you will attend in the evening
A bag to fill with items the children choose from their own things to share with needy children
A map that leads to a box of costumes for an impromptu Christmas play
A box of invitations for a Christmas party. Sit down together and make a guest list, plan activities for a party, and send out your invitations. Use another day to prepare for your party.
Instructions to put on coats and hats to go visit a lonely neighbor or member of your church.
A tin filled with Christmas cookies and a favorite read-aloud book
A Christmas coloring book
A Christmas puzzle to assemble together
A CD of lively Christmas music
Birthday candles and Christmas paper plates to hide on Christmas Eve, for use at a special birthday party for Jesus on Christmas Day
Many years ago we started hiding figures of a wooden nativity set from the Philippines that a missionary aunt gave us. We're stilling hiding those same now-rather-battered figures. We have less people in the household to find them, but it's still fun and a good reminder of what we are celebrating throughout the busy Christmas season (and once in awhile one of the figures finds it way into one of the other family households to hide!).

« «