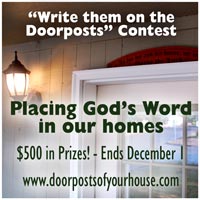 Our Write Them on the Doorposts contest is ending in three days! If you have a photo showing how you've decorated your home with Scripture, we hope you'll enter our contest by this Thursday, December 1. We now have over $700 worth of prizes ready to be awarded to the winners!
You've sent us some wonderful pictures, and it will be very hard to choose the winners. To celebrate the end of the contest and announce the winning photos, along with more exciting giveaways and freebies, we're hosting a Facebook party next Tuesday, December 6th from 5-7 PM PST (8-10 EST). If you're on Facebook, we hope you can join us! (Just log into your Facebook account and visit Doorposts' page.) If you don't have a Facebook account, don't worry; you can still see the contest winners and giveaways here on the blog the next day.
We also want to make sure you know about Doorposts' Christmas sale, which is starting this week. You can save 10% off anything from www.doorposts.com through the end of the year. Just use the coupon code CHRISTMAS11 when you check out!

« «