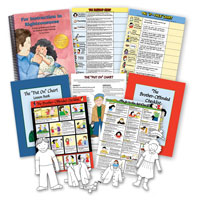 Doorposts is giving away one Parenting Essentials Package, worth $59.00.
This new discounted package gives you five Bible-based charts to help with character building, discipline, and sibling relationships in your home, plus our bestselling topical Bible for parents. Two lesson books for the charts and two paper dolls are also included.
If you're new to Doorposts, and you want try our parenting materials, the books and charts in this package are the best ones to start with.
This package comes with either small charts (8.5″x11," full-color, laminated), or large charts (16″x22," black & white, un-laminated). The small charts are more durable, and fit more easily on your walls, on the fridge, or in a notebook. The larger charts can be better for young children, or if you want to color them at home.

Click below to use the easy giveaway form!






« «