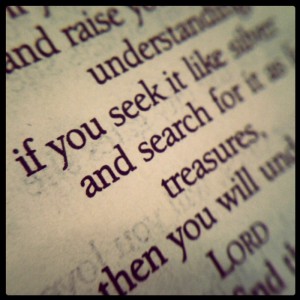 Do you realize what a powerful teaching tool you have right in the middle of your Bible?
The book of Proverbs is one of the greatest resources God has given to help us train our children (and ourselves) in godly living while we sit in our house, when we walk by the way, when we lie down, and when we get up.
The book of Proverbs is aimed at children and young people. It continually addresses "my son." The proverbs are written specifically to young people, and to young men in particular.
Proverbs are written to give knowledge and discretion to the immature or naïve, "to give prudence to the simple, to the young man knowledge and discretion" (Proverbs 1:4, NKJV). Children certainly come into the world in need of knowledge and discretion!
The book of Proverbs contains God-inspired wisdom from Solomon, the world's wisest man, and from other wise men of history. What better teachers could we give our children?
The proverbs are full of word pictures that stir our emotional responses and help us to remember their messages. Children love the vivid pictures portrayed in the proverbs, and easily remember the lessons taught with those pictures!
Each proverb is brief and thought-provoking. A proverb teaches a great deal in a very little bit of time, and leaves us and our children with thoughts to meditate on throughout the day.
The proverbs prepare us to avoid or deal with all sorts of people and all sorts of circumstances. They protect us from the fool, the immoral woman, the angry man, the flatterer, and the influence of those who would lead us astray. ("To deliver you from the way of evil, from the man who speaks perverse things, from those who leave the paths of uprightness to walk in the ways of darkness. To deliver you from the immoral woman, from the seductress who flatters with her words." Proverbs 2:12, 13, 16, NKJV).
The proverbs contain God's wisdom, which is more valuable than silver and gold and rubies. ("For her proceeds are better than the profits of silver, and her gain than fine gold. She is more precious than rubies, and all the things you may desire cannot compare with her" Proverbs 3:14-15, NKJV). Can we offer our children any more valuable gift in life than God's wisdom?
The book of Proverbs is very conveniently divided into 31 chapters. If you read one chapter each day with your children (maybe at lunch time?), you will read the entire book of Proverbs twelve times each year! (You will need to read an extra chapter on some days during the shorter months.) If your child is in your home for eighteen years while you faithfully do this, he will hear all the Proverbs 276 times! That will change his life! The Holy Spirit will build wisdom into that child's heart! God's Word accomplishes its purpose. "So shall my word be that goes out from my mouth;it shall not return to me empty, but it shall accomplish that which I purpose, and shall succeed in the thing for which I sent it" (Isaiah 55:11, ESV).
To help your children listen more carefully, choose one particular subject to focus on as you read. Perhaps you are struggling with problems of laziness in your household. Have the children listen for verses that relate to laziness. When they hear one, stop and write the verse on a white board, or record it in a notebook. Read more about the verse in a commentary if you need help understanding it better. When you reach the end of the month, you will have a collection of verses about laziness. Use those verses when instructing a lazy child, memorize the verses together, look for real life examples that illustrate the truths of these verses.
Another practice that can accomplish several goals all at once is to have your children copy the book of Proverbs. If they slowly copy their way through the entire book, they will be:
Practicing their handwriting
Learning to pay attention to detail as they faithfully reproduce all spelling, punctuation, and capitalization
Growing in wisdom as they engage their minds and their hands in copying the Proverbs
If you feel inadequate in your role as 24-hour-a-day mama (and who doesn't?), take time to prayerfully read one chapter of Proverbs by yourself each day. Choose one verse to particularly focus on for the day, maybe even take some time to read a short commentary on that one verse, and see if God doesn't give you opportunity to apply its wisdom during the day! If you seek wisdom like treasure, if you dig into God's Word and pray for the understanding that the Holy Spirit is eager to give, you will grow in wisdom.
"If any of you lacks wisdom,  let him ask God,  who gives generously to all without reproach, and it will be given him" (James 1:5, ESV).

« «