We did it! I've been praying for those of you who joined us for our study of Colossians 3! If you didn't manage to finish all the studies, or if you didn't find the time to join us but would still like to do the study on your own, links to every day's lesson are right here!
To celebrate the completion of our month-long study, and to encourage you to keep on studying, we're hosting a giveaway! Doorposts is giving away a Bible study package worth more than $100. Here's what it includes: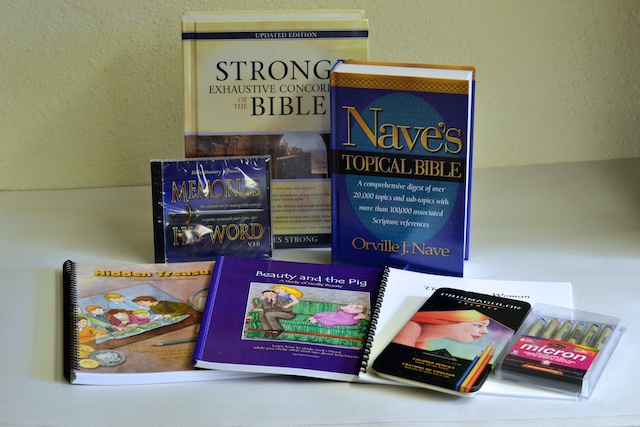 Strong's Exhaustive Concordance of the Bible – Every word of the Bible listed for easy reference and Hebrew and Greek dictionaries to help you study specific words.
Nave's Topical Bible — Verses categorized by topic. Indispensable for topical studies!
Hidden Treasures: Digging into the Book of Proverbs with Your Family — Charts, study helps, loads of ideas for studying the book of Proverbs with your children, and 90 illustrated proverbs to identify while you read a chapter of Proverbs aloud.
Beauty and the Pig: A Study of Godly Beauty — Ten lessons walk you step-by-step through different Bible study methods while also learning about God's definition of beauty. Book, chapter, verse, word, topical, character, and concordance studies, plus ideas for more than 32 other studies! Good for all ages!
The Virtuous Woman — Several short studies on different verses in Proverbs 31, designed for mothers and daughters to study together.
Memorize His Word — Bible memory software that will help you memorize verses and then continue to review them.
Prismacolor Premier Colored Pencils — A set of twelve high-quality, rich-colored pencils that are perfect for marking in your Bible.
Micron Fine Line Pens — 6 colors with a fine point that makes writing in your Bible easy and nice-looking.
To enter the giveaway, comment on this post and answer one of these questions:
What is one thing you have learned while doing any or all of the Busy, Busy Mamas' Bible Study on Colossians 3?
Would you like us to post another study like this sometime?
What could we do to improve the study? (Were lessons too long, difficult to understand, etc.?)
What other passage would you like to study?
In what ways did marking words in your Bible help you better understand what you were reading?
If you didn't do the Bible study with us, you can still answer these questions:
What lesson has God been teaching you lately through His Word?
What is one thing that makes it difficult for you to study your Bible?
What helps and tools do you use when reading/studying the Bible?
(You can enter up to a total of 8 times by writing separate comments answering any of the above questions. Giveaway ends at midnight PST on Wednesday, December 5. A random winner will be picked on December 6 (St. Nicholas Day!) and notified by email.)

For more great giveaways, join us at our Facebook party on December 4, from 5-7 PST (8-10 p.m. EST). Sit down with a plate of Christmas cookies and a cup of tea, and share in the excitement. Winners of our "Write Them on the Doorposts" contest will be announced throughout the party, and lots of other prizes will be given away!

« «