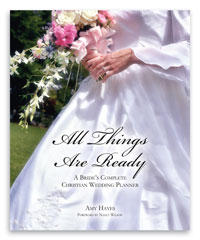 Many wedding planners are available, but we've found that very few look at the process from a distinctly Christian, Bible-based viewpoint. Imagine our excitement when our pastor's wife Amy, who helped coordinate at three different weddings for our family, asked if we would help her publish this book!
All Things Are Ready is a new and timely Christian wedding planner that is based on three basic assumptions:
Planning your wedding doesn't have to take very long (unless you want it to).
The cost of your wedding should not exceed what your family can afford.
A Christian wedding is all about rejoicing in what the Lord has done in the lives of two people and their families.
All Things Are Ready is full of to-do lists, planning resources, tips, budgeting and timeline tools, options for personalizing your wedding, ideas for portraying biblical themes, and devotions to keep your focus on the Lord and the work He is doing in your life through marriage.

Available on Amazon.com or directly from Doorposts.

"It's full of wisdom" —Susan Olasky (WORLD Magazine, Dec. 1, 2012)

"This book will help get the bride down the aisle beautifully and calmly." — From the foreword by Nancy Wilson

"Thanks to Amy's book, and an amazing group of family and friends, I had the smoothest and happiest wedding day I could imagine." — Amazon reviewer

« «