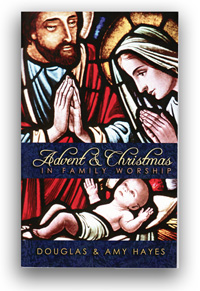 Here is a tool that will help you and your family stay focused on Christ the King throughout the busy month of December. One of our elders first wrote Advent and Christmas in Family Worship to help the families in his congregation, and he's graciously allowed us to print hisbook and make it available to you as well.
This booklet will guide you in simple family worship times that celebrate Christ and His coming. Four weeks of devotionals weave together the Old Testament prophecies of our Savior and their New Testament fulfillments, leading up to Christmas Day. Each day has a short reading, several Bible verses to read, and a hymn or carol to sing together.
Advent and Christmas in Family Worship includes:
Devotional readings and discussions for each day during the four weeks of Advent
Hymns and carols that coordinate with each reading
An explanation of the Advent season and Advent Wreaths
Fun Advent projects and crafts to do with your children
Order printed booklets from Doorposts, or get the $2.99 Kindle eBook from Amazon and start these devotionals right away!
The giveaway winner will receive one printed book in the mail from Doorposts.

« «