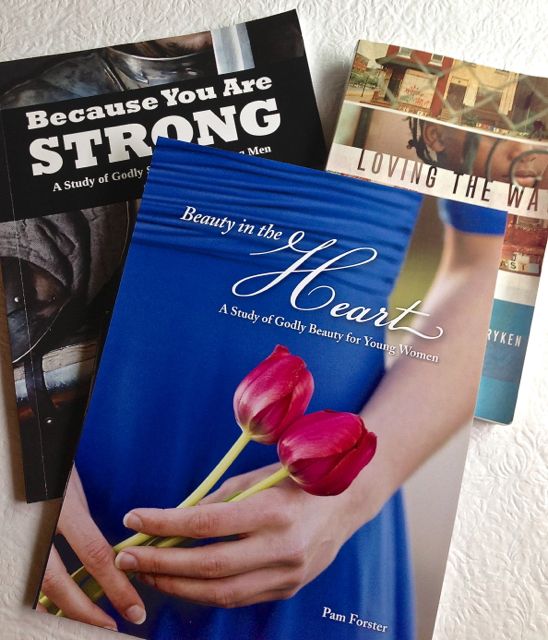 If you want to follow up your study of 1 Corinthians 13 with a good book, Loving the Way Jesus Loves, by Phil Ryken, is a great choice! My copy is underlined and asterisked all over the place. I thought I would share a few of my favorite quotes with you today. (We're giving away a copy of this book and copies of two other Bible study books, so make sure you read the rest of the post!)
"The Love Chapter is not for lovers, primarily, but for all the loveless people in the church who think that their way of talking about God, or worshiping God, or serving God, or giving to God is better than everyone else's."
"No one cares how much we know unless they also know how much we care."
". . . Jesus looks at us with a heart of love. He helps us see that we are not the lovers that we think we are, either. But he does not stop there. By his death on the cross he offers forgiveness to our loveless hearts. Then he sends us the Holy Spirit so that we can start to love the way that he loves."
"We are nothing without love. But when we know Jesus, who does nothing without love, he will help us love the way that he loves."
"The love that Jesus has shown to us proves to be the same love that he wants us to show to others. He does not love us merely to love us but also to love others through us as we learn to love the way that he loves."
Regarding "love is not easily provoked": "Love is not grumpy or grouchy. Love does not get ticked off. Love does not go off on a rampage or a tirade. Love does not launch into verbal abuse, or give people the silent treatment, or get into a bad temper, or do whatever else it is tempting to do when we are angry or irritated." Ouch.
"There is only one thing that chooses to give up its own rights, its own plans, its own comfort and desires, even its own life, and that is love like the love of Jesus."
Regarding "love bears all things": "It is not a patient, resigned acquiescence, but an active, positive fortitude. It is the endurance of the soldier who in the thick of the battle is undismayed."
"The more we study what these verses teach about love, the clearer it becomes that they are really about death and sacrifice. The dominant image to associate with these verses is not the wedding gown but the cross."
Take this one and chew on it for awhile: "Only the love of Jesus can empower us to keep on loving the people that it hurts for us to love."
"But although God may give us more than we can bear, he never gives us more than he can bear." Wow.
Have I got you interested yet? What I like about this book is that it keeps emphasizing our need to understand Jesus's love for us before we will ever be able to share that love with others. We need to know how to love! We live with a family that needs our love! We live in a culture that needs to experience Jesus's love as it is lived out in the lives of His children! We need to understand Jesus's love for us so we can love others with that same love.
Because I like this book so much, we have just decided to add it to our inventory. So if you want to read it, you can order it right here. If you can't afford it, enter our giveaway, and maybe, just maybe, you will be the winner!
We are doing three giveaways — one for each of the following books:
1. Loving the Way Jesus Loves, by Phil Ryken. A fresh look at 1 Corinthians 13, while drawing on the life and ministry of Jesus to illustrate what love is and isn't.
2. Because You Are Strong, by Daniel Forster, my amazing son, who manages Doorposts and figures out what is wrong when I mess things up on the computer. This is an exciting collection of ten studies, geared for boys and young men, that teaches some basic Bible study methods while also studying the topic of strength — something every male is interested in!
3. Beauty in the Heart, by me. 🙂 This started out as a revision of our Beauty and the Pig, but pretty much ended up being a complete reworking of the entire book. It includes new studies that are not in Beauty and the Pig. Like Daniel's Because You Are Strong, but for girls, it includes ten studies, walking through different Bible study methods step-by-step while studying God's definition of real beauty. It's at the printers right now, so the winner will get the first copy, hot off the press!
To enter, please comment, answering any (or all, in separate comments) of the following questions:
What was the most important lesson you learned during the 1 Corinthians 13 study?
What suggestions do you have for making our Busy, Busy Mamas studies more useful or user-friendly?
For those who used some or all of the children's study suggestions, which children's activities did you appreciate the most?
For those who were choosing to use print editions of study tools, were the instructions in the posts adequate?
What will you do to keep the teaching of 1 Corinthians 13 fresh and active in your heart and mind?
For those who didn't do the study, you can still enter! Here are questions just for you!
What are you studying in the Bible right now?
If you aren't studying right now, what is keeping you from doing so?
I appreciate your input! I want to make these studies as useful and easy-to-use as possible! This giveaway closes at midnight, Wednesday, August 7.

Next Tuesday, we'll be back on our regular Tuesday and Thursday post schedule. See you then! 🙂 (And watch for our next Busy Mamas Study in November!)

« «