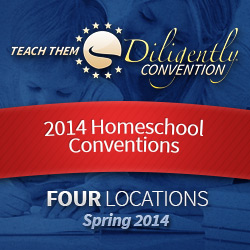 We are super excited about attending three of the Teach Them Diligently conventions this year, and we hope to meet some of you there!
Teach Them Diligently Conventions are designed for the entire family. They provide training and encouragement in discipleship, parenting, home education, and much more! Join us in Nashville, TN, Spartanburg, SC, Dallas, TX or Washington, DC in 2014.
Teach Them Diligently is giving away two free family registrations, which you can use to attend any one of their 2014 conventions!
The winners of this giveaway will receive one free family admission ($75 value) to the event of their choice. Two winners will be drawn.
(Anyone can register early online and save $10-$20 on family registration too.)

« «