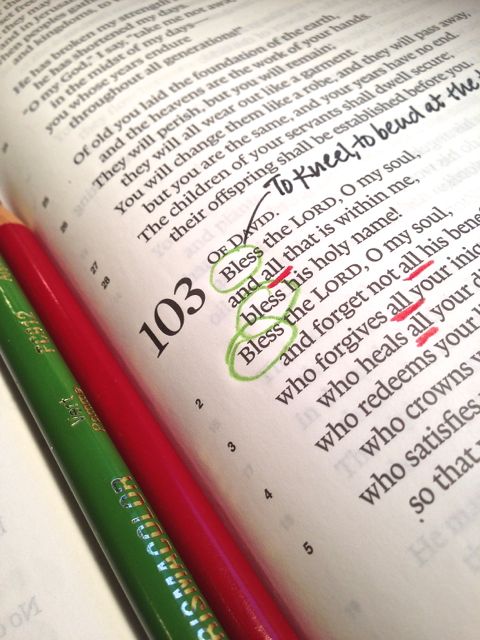 Okay! Pencils ready? Today we mark some text! Grab a green colored pencil or pen, your Bible, and a notebook, and let's get started!
If you don't want to mark directly in your Bible, you can print out the psalm in your favorite translation, or you can print this ESV version to use. Personally, I like marking in my Bible, because I can always go back later and review what I've learned. I tend to lose track of my marked print-outs.
Assignment: Pray for the Holy Spirit to teach you today.
Then take your

green

pen or pencil, and while you read all of Psalm 103, circle every appearance of the word bless. (If you are studying from the New International Version, circle the word praise.)
You should be able to find the word seven times.
Next, with a

red

pencil or pen,

underline

the word all as you read the psalm again.
As you review your markings, make a list in your notebook. List every thing and everyone who is called to bless or praise the Lord in this psalm. For example, in verse 1, David tells his soul to bless the Lord. The phrase that follows my soul would also go into your list. You should end up with at least five things in your list.
Review your list when you have finished. Who is bending the knee before the Lord along with us?
I wish we had more time to study these words in detail. (The optional lesson this coming Sunday will offer some suggestions.) But we can see that no one and no thing is left out of David's invitation to kneel before our Lord. We worship with the angels, with the hosts, with all God's works in all places of His dominion!
For your children:
Read the Psalm aloud for your children. (If they are young, read just verses 1-2 and 20-22.) Ask them to get down on their knees every time they hear the word bless (or praise). Read slowly in the verses that include the word. Each time they kneel, take time to read the rest of the phrase. Who is blessing the Lord?
Take a minute to talk about angels and hosts and how they are described in verses 20 and 21. What do they do? What can we learn from their example?

« «