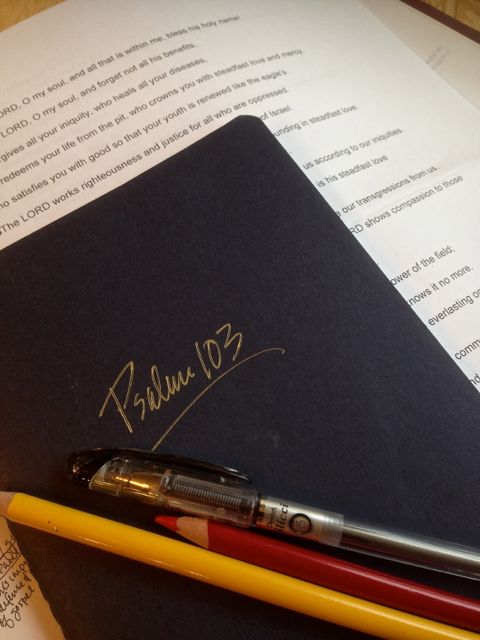 We're about to start our new Busy Mama's study!
During our  last study on Proverbs 31 we saw that the valiant wife's amazing accomplishments were simply the fruit of her fearing the Lord. As we meditate for the next month on Psalm 103, we will be reminded of how great God is, how lavishly generous He is, how forgiving and loving and faithful He is. As we do this, I believe our fear of Him — our awe and worship of Him — will deepen, and our love for Him will grow. He is worthy of our adoration and love!
Here are a few details before we get started:
Materials: You'll need (1) a Bible, (2) a notebook of some sort, (3) a pen, (4) a computer or other electronic device (for using some of the great free study tools that are out there), and (5) a handful of colored pencils or pens. If you want to invest in a set of colored pencils, these ones have nice soft leads that don't mar the thin pages in a Bible and are beautiful, rich colors. But you can use whatever pencils you have around.
We will be marking the text, so if you would rather not mark directly in your Bible, feel free to print out Psalm 103 in your preferred translation. I will be referring to the ESV primarily. Here is ESV version of Psalm 103 ready to print out,  if you would like to use it.
Be sure you're subscribed to this blog so the assignments can get sent to your inbox each morning. (You can subscribe in the right hand sidebar.)
Do you know some other ladies who might want to join you? Pass the word! 🙂 How about your older daughters? They are welcome to join us, too!
Would you like to spend some time studying Psalm 103 with your children? Each day's lesson will include an optional assignment for your children.
Do you want to meet other ladies who are studying along with you? Join our Busy Mamas Bible study Facebook group, where you can read what others are learning, share what God is teaching you, and just get to know other like-minded women who love the Lord.
If you would like to get a head start, start reading Psalm 103 now. Read it slowly. Chew on it. Take a phrase and meditate on it as you do the dishes, and another phrase while you clean up the kitchen. Think about what it means.

On Saturday, we'll take our colored pencils and get to work! See you then!

« «