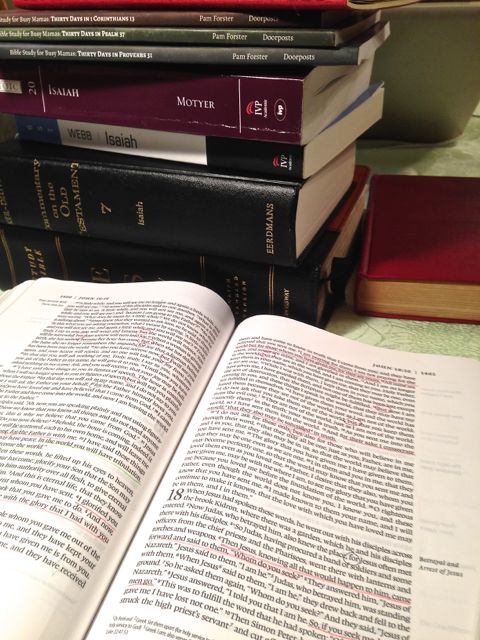 We've come to the end of our study. 🙁 We've seen what our sin cost Jesus. We've seen how He willingly laid down His life to bring us healing and salvation. We've grown in our love for such a Savior.
And some of us have gained some new Bible study skills and perhaps a new excitement for studying God's Word.
What can you do next? What can you do to keep what you've learned from Isaiah 53 fresh in your mind? What can you do to keep practicing what you've learned about Bible study?
Let me offer a few suggestions as the final post in this Bible study. For the next two or three weeks, our oldest son, father of four of my adorable grandchildren, will be posting while I start packing up some of our house to ready it for putting it on the market to sell. 🙁 (Pray! We've been here for 19 years! This isn't going to be easy — physically or emotionally!)
How to keep Isaiah 53 fresh in your mind:
Use Scripture Typer to regularly review what you have memorized.
Use your cue cards you may have made on

Day 11

to keep reviewing your memorization.
Reread the chapter once a week.
Pray through your written prayer based on Isaiah 53 at least once a month.
If you didn't use the children's lessons this past month, consider doing those over the next few weeks. Teaching your children what you have learned will plant it even more deeply in your mind and heart.
Additional study ideas in Isaiah 52 and 53:
Study Isaiah 52:15 in more detail. What does the word sprinkle or startle mean in this verse? Why is there disagreement about its meaning? Look at commentaries for help.
Study the words for transgression and iniquity. What is the difference? Use the interlinear tool, Bible dictionaries, and commentaries.
Study the term bear their iniquities (53:11) in more detail. What does it encompass?
Look at commentaries on each verse. Compare interpretations. Read any sermons by Charles Spurgeon listed in Blue Letter Bible's commentaries on Isaiah 52:13-53:12.
Study the scapegoat in Leviticus and how it relates to Jesus bearing our iniquities.
Meditate on the verses as you draw small pictures to illustrate them in the margin of your Bible. (Read this post from a previous study about illustrating verses.)
Study the account about Philip and the Ethiopian eunuch in Acts 8.
Read one of the gospels and note in detail how the prophecies of Isaiah 52:13-53:12 are displayed in the life, death, and resurrection of Jesus.
Other study ideas:
Study in more detail the other Servant Songs in Isaiah (See Day 15 for references.)
Read all of the book of Isaiah, using commentaries to help you understand what you read.
Search on the word "Esaias" in the KJV on Blue Letter Bible, and note when Isaiah is quoted in the New Testament.
Read the book of John and note every time Jesus states that He is doing the Father's will and not His own.
Choose a chapter in one of the shorter New Testament epistles (Galatians-1 John 3) and apply what you have learned in order to study it. (See this post for ideas on how to approach a new passage.)
Study a short Psalm using the study tools available on Blue Letter Bible and Bible Study Tools.
Complete another Busy Mamas Bible Study. Look in the blog archives for studies on Colossians 3, Psalm 37, 1 Corinthians 13, Proverbs 31, Philippians 2, 1 John 3, and Psalm 103 or purchase a print or eBook version of the first four listed.
Do the studies in Beauty in the Heart, to learn additional study methods while studying godly beauty.
I've enjoyed very much our time together studying Isaiah 53, and look forward to studying with you again! If you remain subscribed to the blog, you'll be the first to know when we start gearing up for our new study in July.

Don't forget to enter the giveaway. Even if you figure you won't win, go ahead and comment anyway. I really value your comments and suggestions.

I'll be praying for you as you continue to study and grow. Thanks again for joining me!

« «