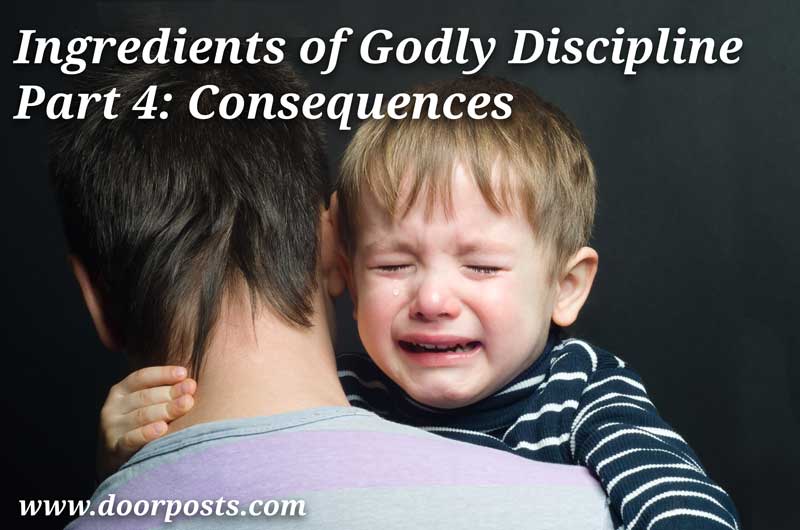 As we seek to provide godly discipline for our children, there are times where it's appropriate for us to devise consequences or allow them to experience the natural consequences of their sin.
Why are consequences part of godly discipline?
1. Consequences prove that we love our children. "Whoever spares the rod hates his son, but he who loves him is diligent to discipline him." (Proverbs 13:24)
2. Consequences drive out folly. "Folly is bound up in the heart of a child, but the rod of discipline drives it far from him." (Proverbs 22:15)
3. Consequences deter wrongdoing and teach our children about sowing and reaping. Sin has harmful consequences in our lives and can also hurt others. "Do not be deceived: God is not mocked, for whatever one sows, that will he also reap." (Galatians 6:7)
4. Consequences teach wisdom. Sometimes just talking is not enough to get the point across. Chastisement, done properly, can get a child's attention and underscore our teaching. "The rod and reproof give wisdom, but a child left to himself brings shame to his mother." (Proverbs 29:15)
5. Consequences encourage repentance from sin and growth in godliness. The goal of chastisement and other consequences is not so much justice, but change. God knows pain gets our attention and helps us see our sin clearly. He uses pain to lead us to righteousness. "For the moment all discipline seems painful rather than pleasant, but later it yields the peaceful fruit of righteousness to those who have been trained by it." (Hebrews 12:11)
It's possible to administer consequences in a way that reflects God's character
Some of us hesitate to use consequences in our discipline because of a bad experience in our past, or because we've seen chastisement lead to undesirable results in other families. But the solution is not to reject the use of consequences. As we just saw, consequences are beneficial when they're administered appropriately.
The solution is to be more like our heavenly Father in how we discipline our children. Consider two passages that reveal God's character to us:
First, Psalm 103:8-14:
"The Lord is merciful and gracious, slow to anger and abounding in steadfast love. He will not always chide, nor will he keep his anger forever. He does not deal with us according to our sins, nor repay us according to our iniquities. As a father shows compassion to his children, so the Lord shows compassion to those who fear him. For he knows our frame; he remembers that we are dust."
God does get angry when we sin. But He is slow to anger, and He does not stay angry forever.
God does not treat us as our sins deserve. He knows justice for our sins would destroy us completely.
God shows compassion, mercy, and grace to those who fear Him. He keeps our weakness in mind.
Hebrews 12:5-11 also gives us a picture of how God, as a loving father, disciplines His children:
"And have you forgotten the exhortation that addresses you as sons?
'My son, do not regard lightly the discipline of the Lord, nor be weary when reproved by him.
For the Lord disciplines the one he loves, and chastises every son whom he receives.'
It is for discipline that you have to endure. God is treating you as sons. For what son is there whom his father does not discipline? If you are left without discipline, in which all have participated, then you are illegitimate children and not sons. Besides this, we have had earthly fathers who disciplined us and we respected them. Shall we not much more be subject to the Father of spirits and live? For they disciplined us for a short time as it seemed best to them, but he disciplines us for our good, that we may share his holiness. For the moment all discipline seems painful rather than pleasant, but later it yields the peaceful fruit of righteousness to those who have been trained by it."
The fact that God disciplines us proves that we are His children, and that He loves us.
God disciplines us for our good, and to work His holiness in us.
Discipline is painful and unpleasant, but only while it is happening.
Discipline leads to "the peaceful fruit of righteousness" after we have been disciplined.
As parents, we can imitate the character of God
In these passages, and throughout the history of God's dealings with His people, we see that God knows how to chastise His children while at the same time loving us and lavishing His mercy on us. He lets us feel the painful consequences of sin, even while sparing us from the full consequences we deserve. Even though it hurts, His chastisement is for our good.

In the same way, we can carefully and calmly administer measured chastisement when our children sin, knowing that we are imitating and obeying God for the good of our children.

This chastisement must be part of the bigger picture of a loving relationship with our child. Yes, God disciplines His children—but He has also created us, reached down to initiate a relationship with us, died for us, and forgiven us. He speaks to us, He listens to us, He watches over us, and He provides for all our material and spiritual needs. He has even planned a glorious future for us. Consequences are one small part of the beautiful, multifaceted relationship we have with our Heavenly Father.

In the same way, consequences are an important part of our parenting—one piece in the big picture of loving, gracious fatherhood and motherhood.

"For his anger is but for a moment, and his favor is for a lifetime." (Psalm 30:5a)

« «