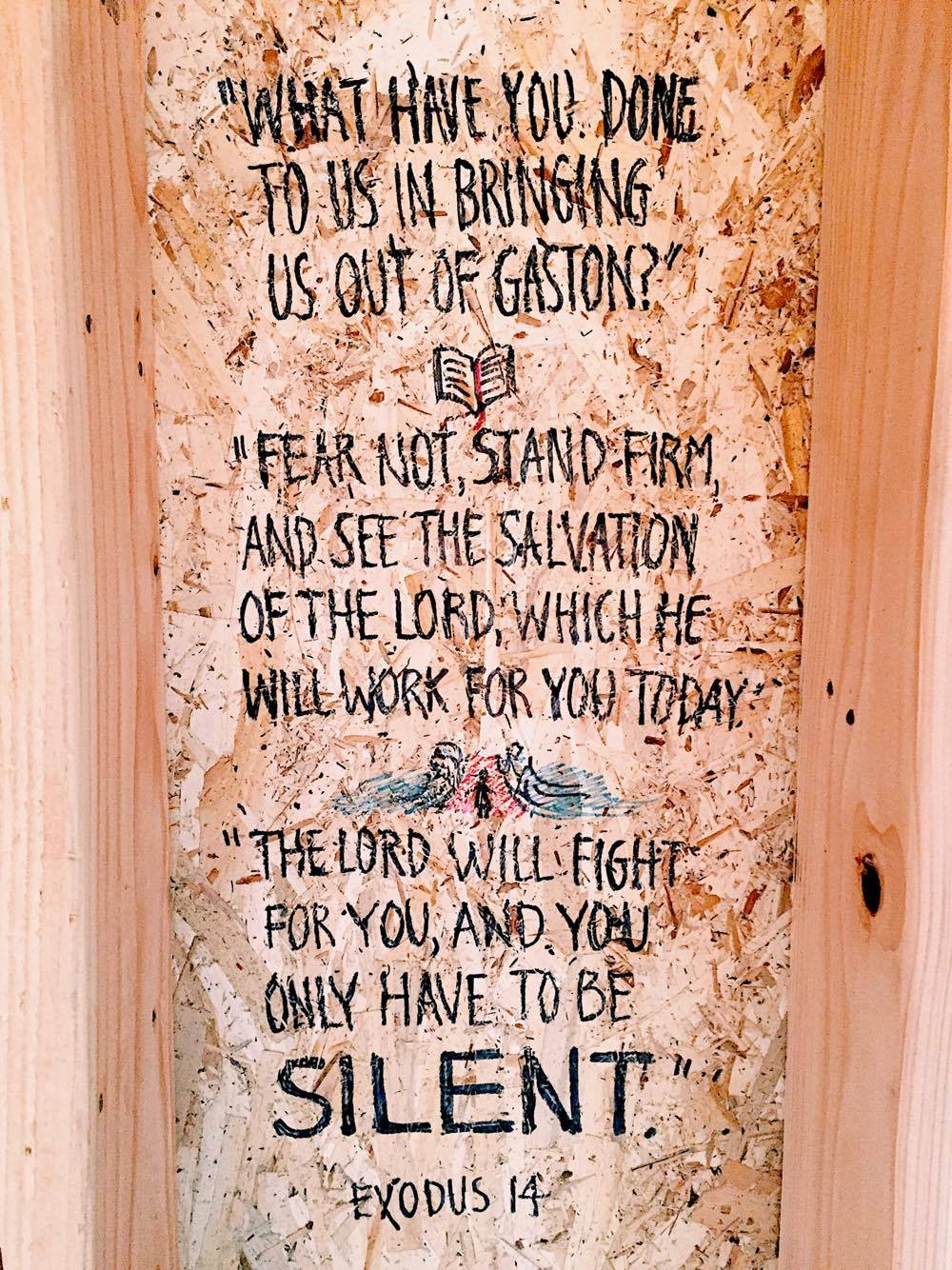 We've been trying to build a house for two years — two years of ups and downs, trees cut down that no one wanted to help us haul out, a road that devoured over a hundred loads of gravel, a water line that kept breaking and finally had to be replaced, the rainiest winter in years for rainy Oregon, dozens of new houses being completed on every side of our little travel trailer, weeks with nothing moving forward, then a big step forward only to sit with nothing happening again for weeks. and now, with framing and trusses up — but no roof — the rains begin again.
I finally had my first real house-building meltdown the other night — a "leeks and garlic" moment, like the Israelites looking back with foolish longing on their days of slavery in Egypt. They were sick of manna and remembering the "good old days." "We remember the fish we ate in Egypt that cost nothing, the cucumbers, the melons, the leeks, the onions, and the garlic" (Exodus 11:5).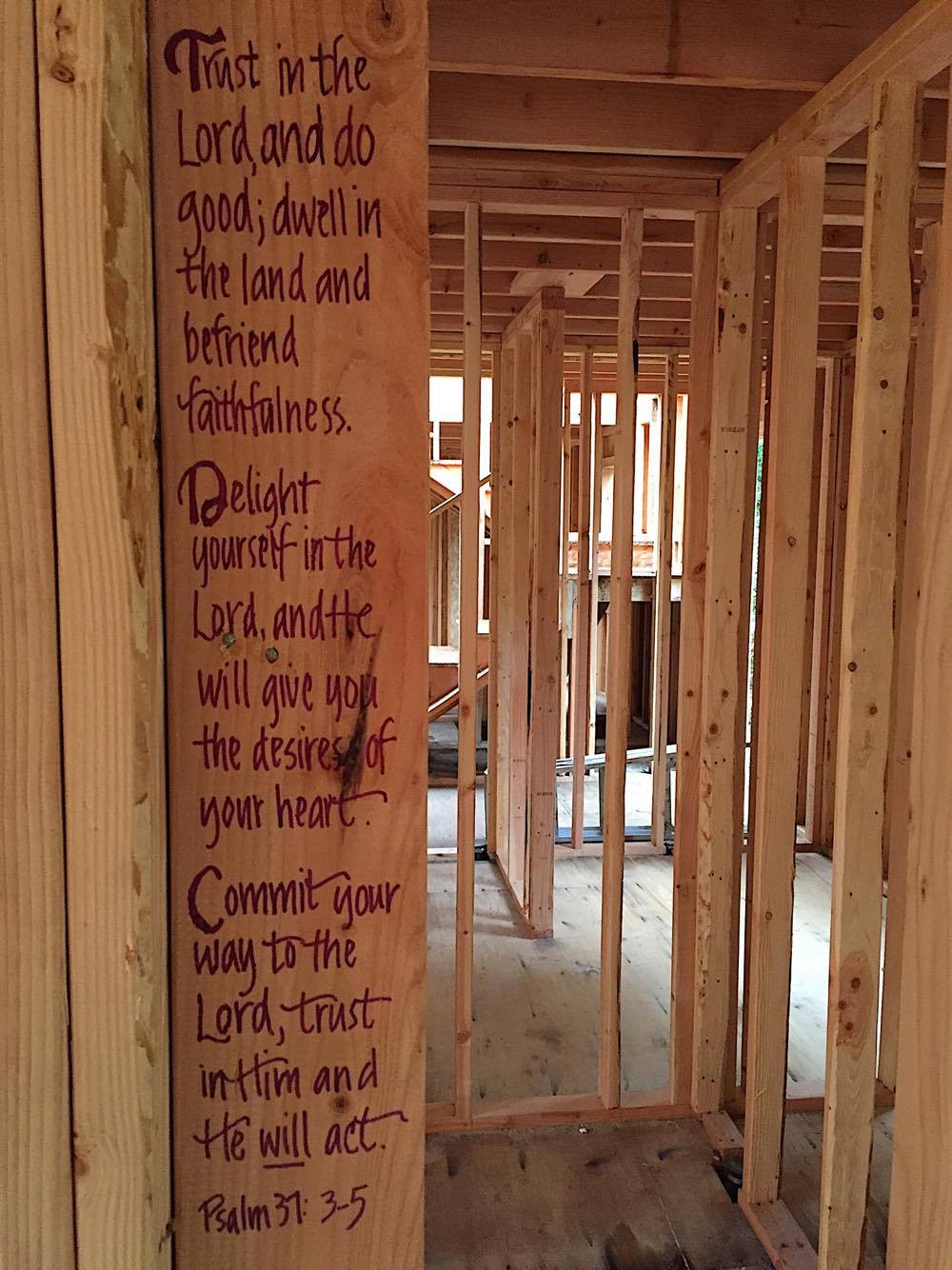 I found myself wishing I was back in the country — with my big garden, my big kitchen, our business out the back door, and the beautiful wide open spaces. Surely this whole house building plan was a big mistake, God?
I fearfully imagined the worst possible scenarios as we continue to sit helplessly at the mercy of a much-too-busy contractor, and wrestled with the fact that there really is very little I can do about it.
In the midst of this meltdown, the Holy Spirit was valiantly prodding me, reminding me that it was time to start preaching to myself instead of just listening to myself. It was time to remember what God says about Himself. That's when He graciously reminded me of a passage we read responsively in church a couple weeks ago. I had to use Blue Letter Bible's concordance search to hunt it down, but finally found and read it — more about those fearful, grumbling Israelites, this time in Exodus 14.
And the LORD hardened the heart of Pharaoh king of Egypt, and he pursued the people of Israel while the people of Israel were going out defiantly. The Egyptians pursued them, all Pharaoh's horses and chariots and his horsemen and his army, and overtook them encamped at the sea, by Pi-hahiroth, in front of Baal-zephon.
When Pharaoh drew near, the people of Israel lifted up their eyes, and behold, the Egyptians were marching after them, and they feared greatly. And the people of Israel cried out to the LORD. They said to Moses, "Is it because there are no graves in Egypt that you have taken us away to die in the wilderness? What have you done to us in bringing us out of Egypt? Is not this what we said to you in Egypt: 'Leave us alone that we may serve the Egyptians'? For it would have been better for us to serve the Egyptians than to die in the wilderness."
And Moses said to the people, "Fear not, stand firm, and see the salvation of the LORD, which he will work for you today. For the Egyptians whom you see today, you shall never see again. The LORD will fight for you, and you have only to be silent.
It was time to dry the tears, smile at the future instead of fearing it, and trust God once again. It was time to stand firm, knowing that God is in control. He will fight for us. I do need to be silent (not exactly my specialty).
Other passages came to mind — ones I've memorized over the past couple years as I've studied them with many of you — words from Psalm 37 and Psalm 103.
"Trust in the LORD, and do good; dwell in the land and befriend faithfulness. Delight yourself in the LORD, and he will give you the desires of your heart. Commit your way to the LORD; trust in him, and he will act. …Be still before the LORD and wait patiently for him…"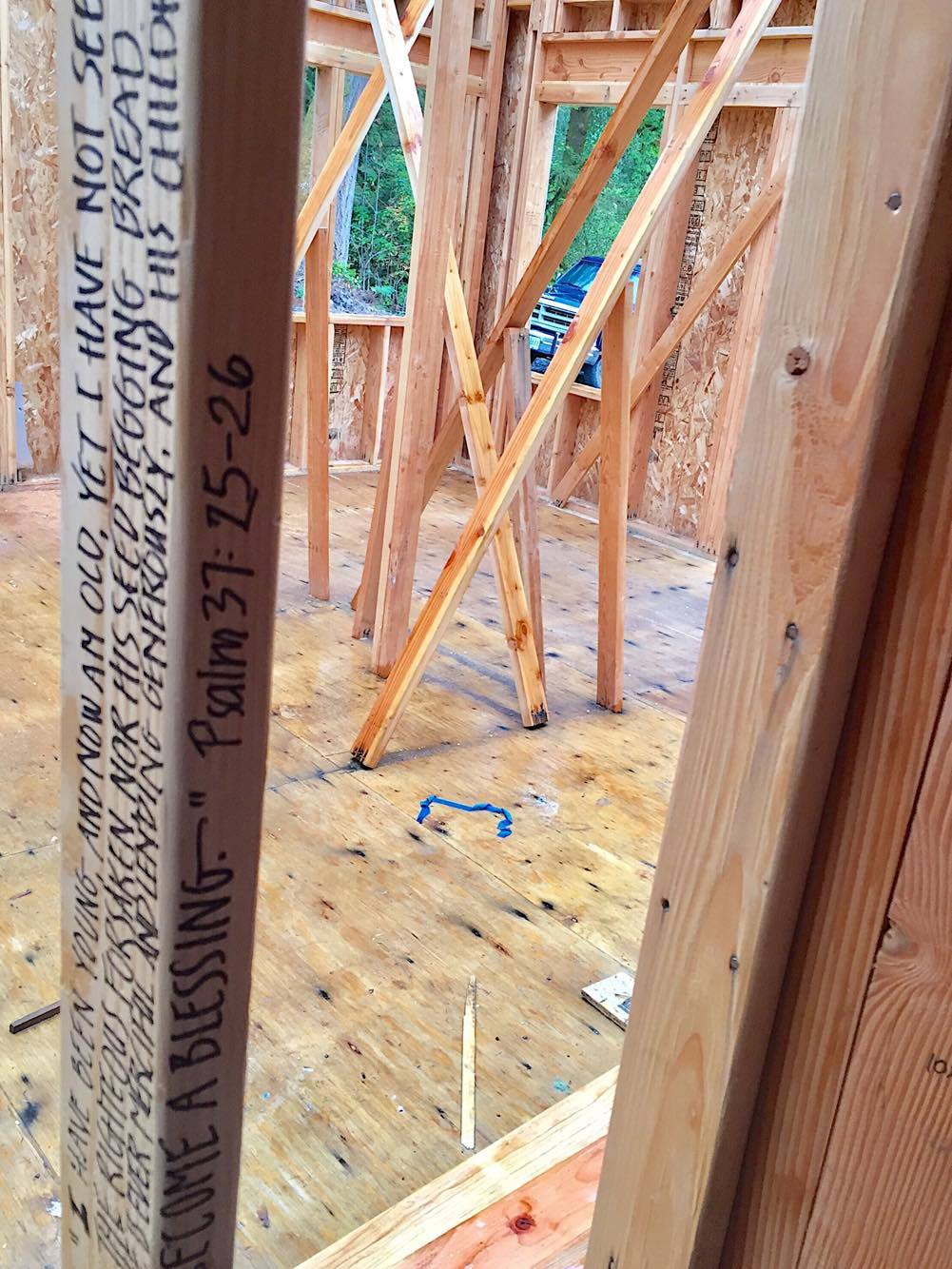 There it is again. Trust Him. Be faithful. Delight in Him. Commit my way to Him. He will act. Just wait.

I have been young, and now am old, yet I have not seen the righteous forsaken or his children begging for bread. He is ever lending generously, and his children become a blessing.

God has always proven Himself faithful. There's no reason to believe He won't now. He's a good, generous, and wise God

As a father shows compassion to his children, so the LORD shows compassion to those who fear him. For he knows our frame; he remembers that we are dust.

He knows me. He made me. He knows I'm just dust and has compassion on me as I, with His help, seek to rein in my emotions and choose to trust Him, even though I don't know what the future holds.

When we had our "house signing" party a couple weeks ago, I spent my time visiting with the family and playing with the kids. I hadn't decided what I wanted to write on the studs of the walls before they (someday) get closed up behind sheetrock. Now I knew what I wanted to write.

So I prayed God's words yesterday as I stood — in the rain — my little dog racing up and down the stairs and in and out between the studs, while I wrote verses inside the walls of what will someday be our house, Lord willing. He knows what's happening. That's enough.

Unless the LORD builds the house, those who build it labor in vain. Unless the LORD watches over the city, the watchman stays awake in vain. It is in vain that you rise up early and go late to rest, eating the bread of anxious toil; for he gives to his beloved sleep.

« «