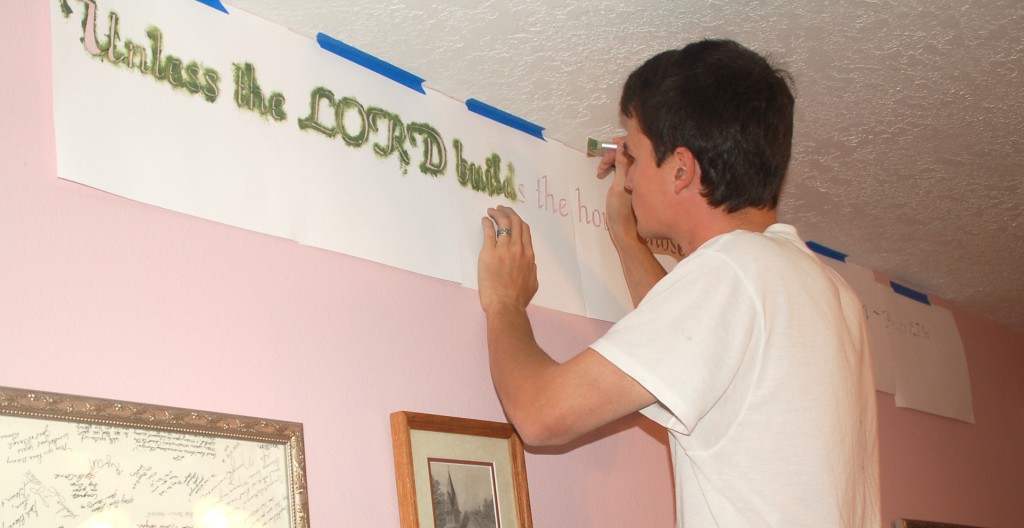 The goal of this contest is to make Scripture more prominent in our homes, and to share ideas about decorating our homes with God's Word.
This page lists the official contest rules, along with some ideas on where and how you can decorate with Scripture and make it prominent in your home.
2012 Rules & Details:
What to enter: Photos of Scripture displayed in your home. If it fits the spirit of Deuteronomy 6:9, feel free to enter it! Your photos can be of Scripture that's already around your home, or of new verses you have put up during the contest.
How to enter: There are two ways to submit photos: (1.) Email your photos to DoorpostsContest (at) gmail (dot) com, or (2.) write a blog post (including your photo[s] and a link to this page), and email us the link to your post. (We have a cash prize for the best blog post!) Each entry must be accompanied by your name and email address. Use the subject line "CONTEST ENTRY" to ensure proper delivery of your email. There is no limit to entries, but each one must be substantially different.
Who can enter: This contest is open to US residents age 18 and older.
Entry deadline: The contest begins October 11, and entries must be submitted by midnight (PST) on Wednesday, November 28, 2012.
Winners will be announced December 4, 2012 on our blog (we're also planning an exciting Facebook party that evening).
Judges are members of the Forster family. We will choose photos that exhibit creativity, effective placement of verses, artistic ability, good photography, or a combination of these aspects. (See last year's winning photos.)
Awards will be given for 1st-8th place plus a "best blog post" award. See below for prizes to be awarded.
By submitting photos, you give us permission to post them online and/or in our email newsletter.
Prizes to be Awarded:
Our thanks to the Christian businesses who are supporting this contest by donating prizes!
Ideas – Ways to Decorate with Scripture:
Have your kids write out and/or illustrate Bible verses for you to put on the wall
Framed art/prints of Scripture (Bible verse wall decor is available at most Christian bookstores. Don Jonas Calligraphy offers reasonably priced prints.)
Make your own Scripture wall art by decorating your own prints (several of these projects are included in our new eBook, Write Them on the Doorposts).
Painting with stencils (You can make your own stencil with heavy paper. Here are some helpful stenciling tips.)
Paint letters on the wall free hand (it helps to pencil the letters out first)
Vinyl applied letters (pre-made and custom Scripture lettering is available online from Wise Decor and other suppliers.)
Quilts or throw blankets
Wood with carved or woodburned designs (see Renew Carvings and Gathering Wood)
Cross-stitch or needlepoint
Ideas – Places to put Scripture in Your Home:
Think of places where you will see it most often, like the kitchen, school room, or laundry room.
Think of places where you know you need encouragement (like Galatians 6:9 in the laundry room, or Ephesians 5:15-16 by the computer).
In bathrooms (a good place for memory verses, whether they're part of the decor, or just a post-it note on the mirror)
In the car
On the refrigerator
On or near your computer
Inside cabinet doors
In children's bedrooms
In your bedroom
In the living room
Near your front door
For more inspiration:
« «