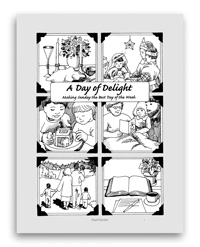 "Remember the Sabbath day, to keep it holy." (Exodus 20:8)
Today's giveaway is a book that can help make your Sunday a joyful day of rest (even if you have small children!)
At one point, with five kids age 8 and under, we looked at our family and how we were observing the Lord's Day and concluded that we were not truly obeying God's command. We managed to get everyone out the door and into church, but we couldn't really call Sunday a "delight."
We knew things had to change!
A Day of Delight shares the many ways we found to make Sunday delightful instead of frightful.  This book offers dozens of creative ideas to help make the Lord's Day a unique and joyous day of celebration for the whole family (even Mom!)
It includes suggestions for:
Preparing for Sunday throughout the week
Making meal times special (while the cook still enjoys a day of rest!)
Creating a treasure chest of special toys and books for Sundays only.
Lots of ideas for toys, games, activities, and projects that focus on Scripture, worship, reflection, fellowship, remembering God's creation, and exercising our God-given creativity. (Good ideas for daily family worship times, too!)
These ideas can help draw your family closer together, and make Sunday the best day of the week. As we have reformed our thinking about the day of rest God has given us, we have noticed that Sunday has become the focal point of our week. And the rest of the week has become more peaceful, as well. Now we look forward to Sundays!
To enter today's giveaway:
Think of something you can do today to prepare for Sunday and make it more restful or enjoyable. Write one comment on this post telling us what you will do. Two winners will be randomly drawn on Monday.
No giveaways tomorrow, but be sure to come back on Monday for the next giveaway, the updated and revised third edition of For Instruction in Righteousness!

« «