Tomorrow we'll look at some ideas for continuing your study of Isaiah 53 on your own. For today, let's have a giveway!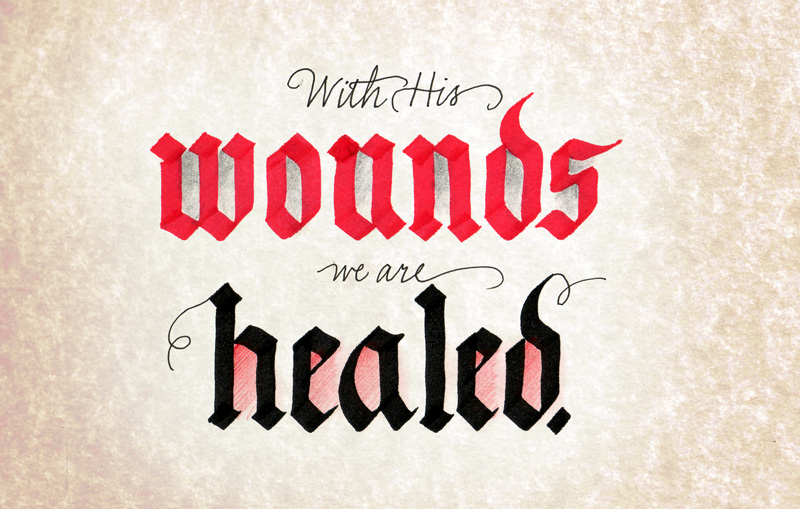 First, I want to give all of you this hand-lettered portion of Isaiah 53:5! It's my little thank you for studying with me over the past month — and a reminder of what Jesus has done for us!
Next, you have a chance of winning a $50 gift certificate from Doorposts! Use it to buy anything you want from Doorposts — child training helps, Bible studies like the one we just finished, tools to help you apply the Bible in your home.
For our next study (in July) we're going to do something a little different. We're going to spend 30 days studying some topics related to child training. We'll take several parenting challenges and behavior issues and learn how to find answers from God's Word. I'm excited about this study!
With this giveaway, you have a chance to tell me what parenting issues you would like to study! What are you at your wit's end about? What behavior problems are you dealing with? Share your ideas in the comments here and you'll automatically be entered into our giveaway. Plus, we just might address your problem in our Bible study!
To enter this giveaway, answer one of two questions (or you can answer both in separate comments for two entries).
1. What parenting challenge would you like most to study in a future Busy Mamas Bible study?
2. What is the most important thing you learned in your study of Isaiah 53?
Give us your answers in the comment section of this blog post (If you are reading an email of this post, you will need to go directly to Day 36 of Isaiah 53 on the blog to comment.)
This giveaway will end at midnight, Monday, April 13. A winner will be randomly selected and notified by email.
Tomorrow, we'll wrap up our study time together with a list of suggestions for continuing your study on your own!

« «