"You shall write them on the doorposts of your house and on your gates." Deuteronomy 6:9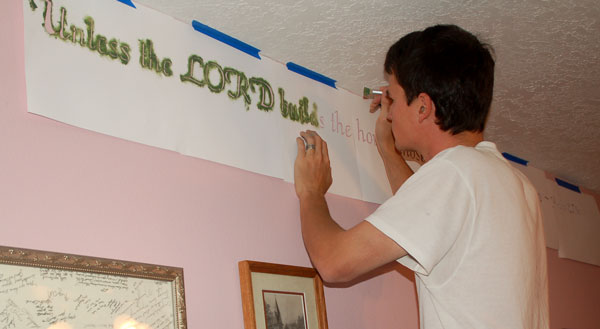 This month, Katelyn and I are finally accomplishing a goal that's been on our to-do list since moving into our house two years ago. We're stenciling Scripture on our walls!
I've been thinking about various decorative and creative ways of placing Scripture in our home. Since this activity ties right in with Doorposts' mission, we've decided to host a contest so we can all share ideas and inspire each other (more details later in this post)!
Why should we write God's Word in our homes?

In Deuteronomy 6:4-9, God commands Israel to write His words on the doorposts of their homes, but the real point of these verses is that we should write God's Word on our hearts. God wants us to love Him with all our heart, soul, and strength.
Writing Scripture on our doorposts is not the end goal, but it is one of the means God prescribes that will help us love Him and obey His Word more faithfully. Here are a few reasons for making Scripture prominent in our homes:
Because we will see it often.
Because it helps us memorize and remember God's Word.
Because it will give us more opportunities to meditate on and talk about Scripture with our spouse and children in the context of daily life.
Writing God's Word in our home is a witness to visitors. It's an opportunity for outsiders to read God's Word, and to see that it's important to us.
Announcing the "Write them on the Doorposts" Contest!
Starting today, Doorposts is hosting a contest! We want to share ideas and encourage more families to make Scripture prominent in their homes. We hope you'll join us by submitting one or more photos showing how you've decorated with Scripture. (Read the contest details here!).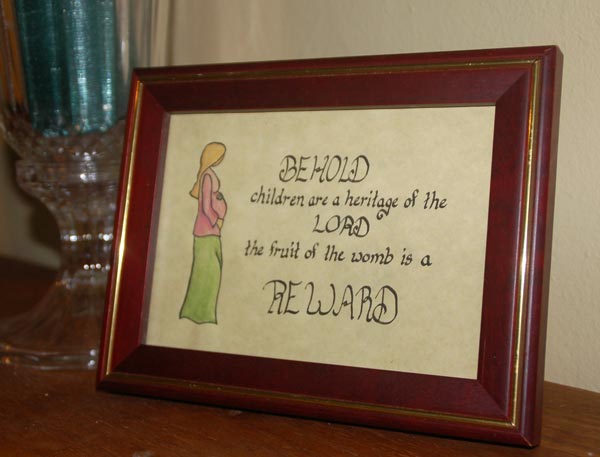 Contest Prizes:
Contest prizes include $500 in gift certificates to Exodus Books, Wise Decor, and Doorposts. Winners will be announced on December 6, 2011.
Today's Giveaways: (Sorry, this giveaway has ended as of October 20)
To help kick off the contest and spread the word, we're offering five prizes which will be given away one week from now:
Enter today's giveaway by sharing about this contest, and commenting on this post for each way you share. Here are some ideas:
Tell a friend about this contest (in person or by phone)
Share this post on Facebook
Email your friends about the contest
Tell people at your church or homeschool group
Write a post about this contest on your blog
Add a link to this contest post on your blog sidebar (you can use one of these buttons if you like: 125×125 – 150×150 – 200×200)
Post this (or a similar) message on Twitter:
Doorposts contest: Placing God's Word in our homes – $500 in prizes! http://bit.ly/pnnkMg #homeschool #bible
Be sure to comment on this post telling us what you did. Each comment is a separate entry. No limit to entries, as long as you are sharing with different people each time. Winners will be randomly drawn from the comments on Thursday, October 20.

« «