Here's a collection of ideas that are especially kid-friendly!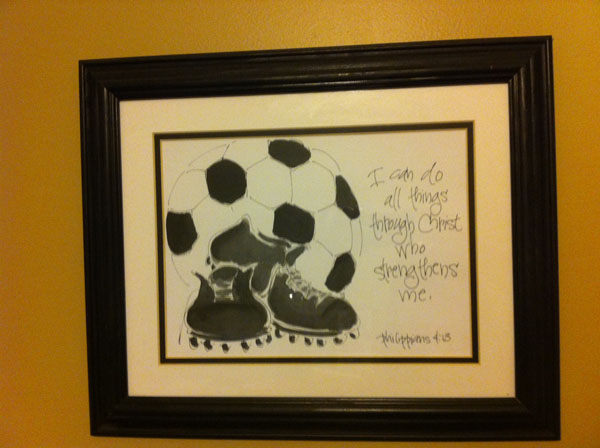 Great for a boy's room!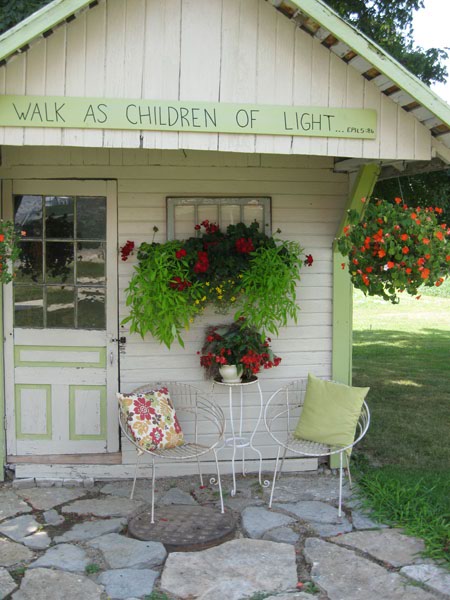 Saloma describes her children's playhouse:
"It was just a run-down spring/well house behind our house when we moved here. It is still pretty run down but we gave it a face lift and a floor and the children love it!  We have part of Eph 5:8 written on it.  I just painted a board and used a paint marker to write the verse free hand on the board.  There is a diagonal board down a wall inside the play house that I wrote 'Jesus loves the little children' on."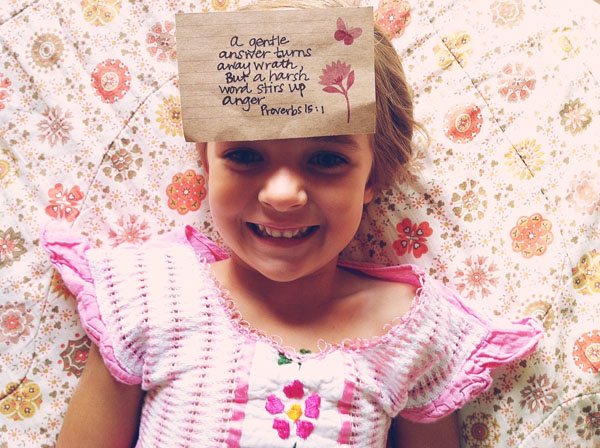 Shannon describes this unique display of Scripture!
"This isn't on a doorpost, but I was putting scripture notecards around the house to remind myself to be gentle and sweet with my words. I taped one to my daughter's forehead in a silly way to remind me to be a sweet Mama when I look at her."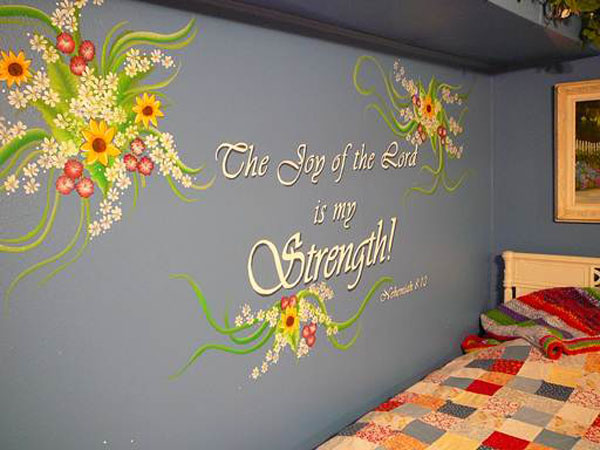 Look how nicely the colors of the flowers coordinate with the colors in the quilt!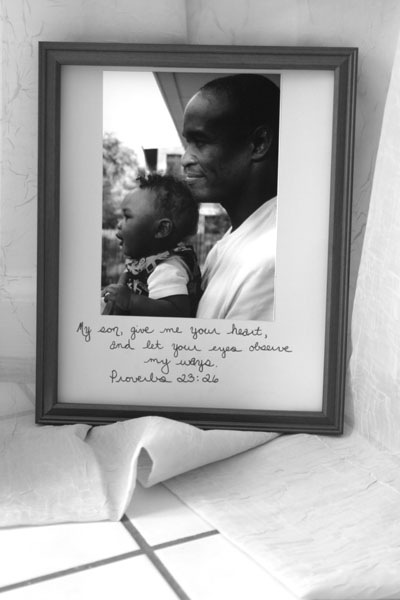 Tiffany says,
"We currently rent a home, so I am cautious how I decorate the walls.  I have found that framed Scripture art is a easy way to keep the Word before us, with minimal damage to the walls. The picture was taken of my husband and our then 7 month old son a month after my husband returned from Iraq." Pray for Tiffany's husband — and for Tiffany and her little guy!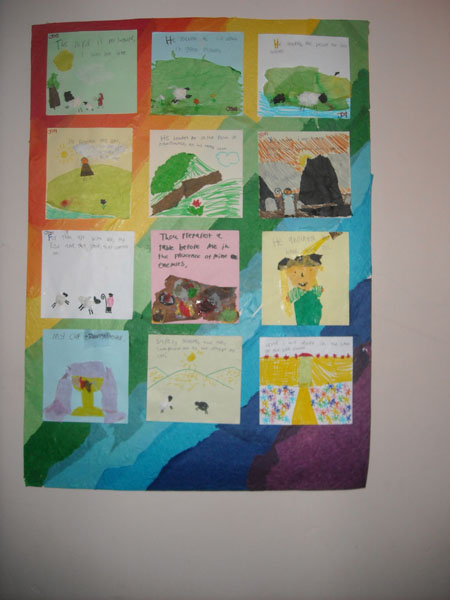 Lorna describes this charming "tissue paper quilt" :
"Attached is a picture of a "paper quilt" done by my son of Psalm 23.  The pictures are drawn by him, with craft tissue paper used to make some of the pictures more interesting. We started this paper quilt months ago and although each quilt square was completed, we didn't get round to piecing the quilt together until we decided to get it completed for this contest.  We're so glad we've completed it and it now sits proudly in our living room."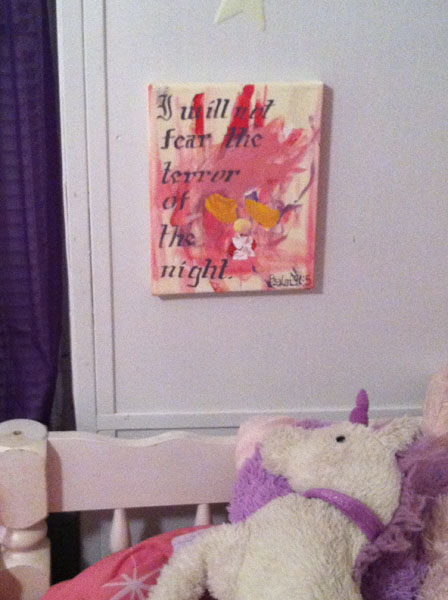 Sherry says, "We rent our home so we're not able to paint directly on the walls. Instead we came up with canvases. My 6 year old daughter struggles with nightmares so she painted this monster.  We found a scripture that would encourage her and calm her when woken up in the night and placed it by her bed."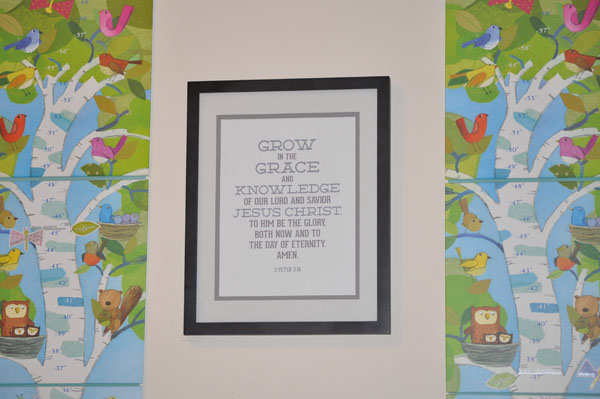 A nice verse to read when the kids check in for occasional height checks!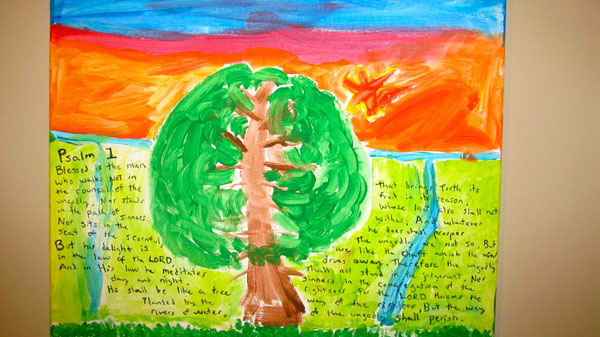 Jasmine says, "Our 7 yr. old son painted this picture of Psalm 1 and we wrote the scripture out for him. It is displayed in the boys' room."
And here's 2nd place! Take a look at this boy-pleasing belt of truth by Kerry Messer!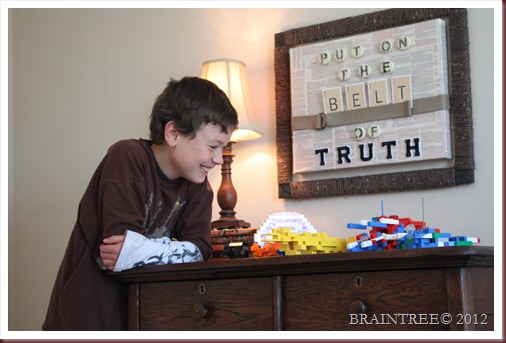 Here's what Kerry says about this winning entry:
"I made this for [my son Luke] by decoupaging pages from the Book of Luke (out of an old Bible which had completely separated from its binding) onto a cheap canvas. Some of the letters are painted onto orphaned backgammon pieces, the cards are from a Scrabble card game, and the letters spelling "TRUTH" are stick-on embroidery pieces from Hancock Fabrics. The belt is from Goodwill, and the frame was one I had on hand from years ago (wrapped in wool yarn). The entire project cost about $3."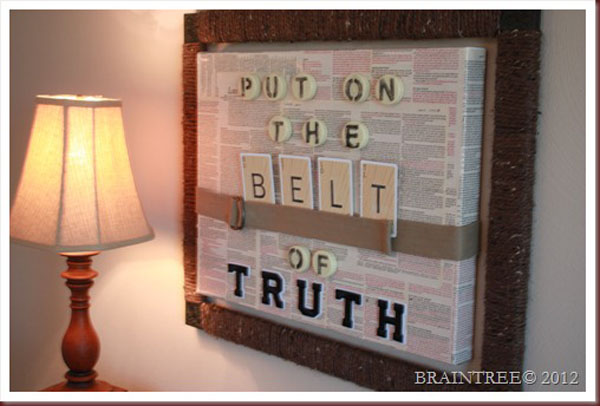 Kerry wins a two gift certificates – $120 for Doorposts and $75 to Exodus Books. Thanks for entering, Kerry!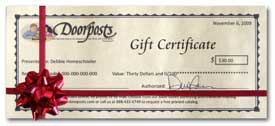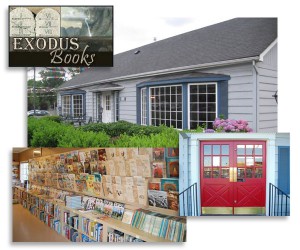 « «