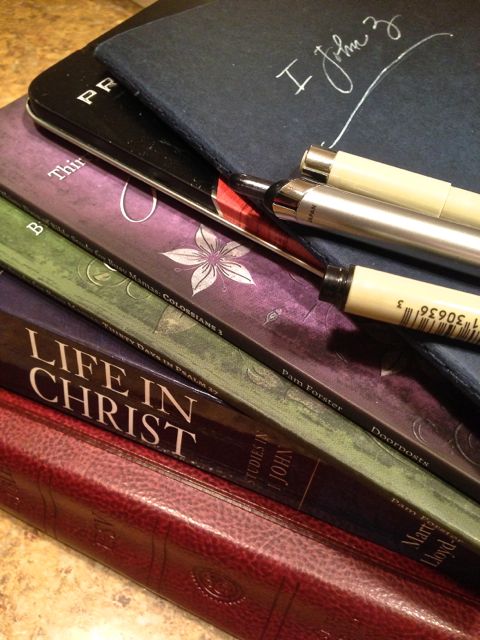 We've come to the end of our study of 1 John 3. Many of you will still be working on the lessons for a few more days in order to finish up. Then what do we do?
What's next? We don't want to just study this chapter and walk away unchanged. What can we do to keep these new truths alive and active in our hearts? What can we do to keep using the new study skills we have gained during our time together?
To keep what you've learned fresh in your heart and mind:
Continue to memorize verses from the chapter, and review what you've memorized on a regular basis.
Copy significant verses from the chapter and post them around the house.
List some specific ways you can show love to your brothers and sisters in Christ. Then commit to doing those things. You could commit to at least one active demonstration of love toward another believer each day!
Share what you've learned with someone else. Share new insights with a friend. Tell your husband what you have learned and ask him to pray for you as you seek to live out what you have learned.
For those of you who would like to continue your study of 1 John, here are a few suggestions:
Start at the beginning of 1 John and apply the same study methods to chapters 1, 2, 4, and 5. Use the basic steps from Days 4-24 in our study to study the other four chapters of the book. Take one chapter at a time. Look for repeated words, list commands, read cross-referenced verses, use the lexicon (Interlinear tool) to study different words, etc.
Study these phrases as they are used in 1 John and throughout the Bible:
Light and darkness
Abide in Christ
Study these words and ideas as they are used and taught in 1 John:
Spirit
The world
Love
The relationship of loving and abiding
Life (as in 5:11-12)
Study in more detail 1 John 3:19-23. Read various commentaries on these verses.
Study the relationship between 1 John 3:21-23 and 1 John 5:14-15
Study 1 John 5:4-5 and other related passages in the Bible about victory, faith, and overcoming the world.
Study this chart that summarizes the book of 1 John.
Listen to sermons on 1 John by Timothy Keller. The following ones can be downloaded for free:
The Meaning of Christmas, 1 John 1:1-4
Hope for the Poor, 1 John 1:1-3, 14-20
Exclusivity — How Can There Be Just One True Religion? 1 John 4:1-10
Beholding the Love of God, 1 John 3:1-3
Seeing Him As He Is, 1 John 3:1-3
Knowing That We Know, 1 John 2:3-11
Read Life in Christ, by Martyn Lloyd-Jones. This is hefty (700 pages), but very readable chapter-by-chapter study of 1 John. Most of the book's 67 chapters are around 10 pages long. It might take awhile to get through, but it's worth it! Take notes in your Bible!
Learn some of these hymns that are based on passages from 1 John. The music for each hymn may be printed out, and most can also be downloaded for listening as well.
Read the Gospels. Note every instance of Jesus laying down His life for us.
Read a good book on Christian hospitality and put what you learn into practice. Hospitality is one of the practical ways we can love our brothers and sisters in Christ.
If you would like to study other chapters of the Bible in the same way we have studied 1 John 3, you can search in the archives of Doorposts of Your House for our past Bible studies on Colossians 3, Psalm 37, 1 Corinthians 13, and Philippians 2. The studies on Colossians 3, Psalm 37, and 1 Corinthians 13 are also available as eBooks and print books at Doorposts.com.
Take what you have learned and pick another chapter of the Bible to study. Look for themes, repeated words, commands, references to God, verb tenses, lists, cross-references, and all the other things we have been learning over the past month.
And be sure to watch for our next 30-Days study! On July 1st we'll be back with another study! Until then, I hope to still "see" you here for our twice-weekly posts designed to encourage you and equip you for training your children with God's Word!
Thanks for studying with me! Watch, too, for a children's activity posted here on Thursday, to wrap up their study of 1 John 3!
To finish up our study, we would like to give away some Bible study materials to keep you going! Answer one or both of the questions below for a chance to win Doorposts' Busy Mama's Bible Study Kit (all three Bible study books, colored pencils, pen, and Moleskine notebook) or one of five copies of our brand new, hot-off-the-press Thirty Days in 1 Corinthians 13 for Busy Mamas. You have six chances to win! Giveaway ends on Monday, April 7, at midnight, Pacific time!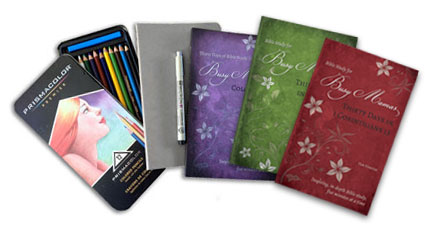 « «