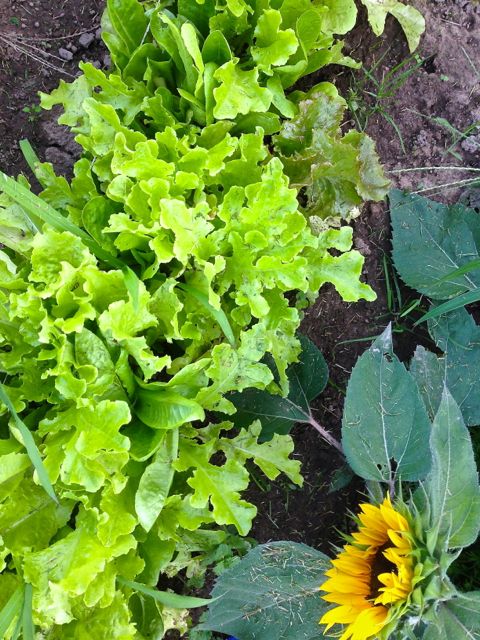 I've had a garden every summer for the past thirty-five years. It's generous to call some years' efforts a garden. Different years meant different babies newly arrived or still in the works during garden seasons. Babies were born in April, May, June, August, September, October (of different years, obviously 🙂 ). Those years were a bit more challenging. I called the gardens of those years my treasure hunt gardens. Go out and see what you can find in the weeds.
In thirty-five years, I've managed to learn a few things  — what we will eat and what we never get around to using (kohlrabi is amusing to look at but not very exciting to eat), how much lettuce to plant at one time so a whole row doesn't go to seed all at once, which seeds never seem to germinate for me (no parsnips for us this year 🙁 ), which seeds I should plant thickly in order to get enough to sprout.
But one thing I've never seemed to learn is how to thin seedlings without feeling bad.
Actually, I have learned that it's important to thin seedlings. I usually just can't bring myself to kill all those hopeful little baby plants! Right now I have lettuce that I need to go out and thin. I always tell myself that I'll wait until the plants have grown some, and then we can use the thinnings in a salad. It's a nice theory, but I don't always get around to it.
And so I end up with lots of small, crowded lettuce plants in the same space that seven or eight heads of lettuce would thrive in if they had enough space. The same thing happens with the beets — lots of small ones instead a fewer big ones. Swiss chard and carrots often suffer the same neglect.
Sometimes less actually means more. Less plants in the ground often means more actual food to eat. If fifty lettuce plants aren't all fighting for the same 10 feet feet of soil, we actually get seven or eight nice big heads of healthy lettuce.
Sometimes less means more when it comes to raising our kids, too. It's so hard to say "no" to so many good activities, but how many things can we actually cram into a 24-hour period and do them all well? How many lessons, how many sports activities, how many church commitments, how many social gatherings?
If we try to squeeze too much into our lives (and into the lives of our children), none of our busy-ness ends up bearing much fruit. We end up with a lot of activity, but not much deep learning or real joy in what we're doing.
When we're too busy, the best things often get crowded out, like the Yugoslavian Red lettuce I really like that is getting crowded out by the overpopulation of ho-hum green lettuce. It needs space to grow. I need to give it that space.
When our lives get too full, we often sacrifice the best parts of life and the parts God holds us most responsible for — things like relaxed, un-pressured time spent with our children and with our spouse, time learning together from God's Word, time thinking and imagining and planning, time building relationships, time when Mama isn't cranky and stressed as she tries to keep up with everyone's overbooked schedules. (I can remember some too-busy seasons of our family life when I'm sure I was not very fun to live with.)
We're supposed to teach our children God's law when we sit in our house, when we walk by the way, when we lie down, and when we rise up. That means we need to spend time with them — time when we can really give them our undivided attention.
As we are about to launch into a new school year, stop and reevaluate. Do you need to do some "thinning"? Should you reconsider how many extra classes and activities you want to encourage your children to participate in? Pray about this. What does God want you and your family to do? What is really going to matter twenty or thirty years from now — or more importantly — in eternity? Are you making those things a priority?
Discuss this with your husband, pray together, fortify yourselves, and start plucking out the good things that are going to keep you from doing the best things and doing them well.
I'm heading out now to face that row of lettuce. 🙂

« «