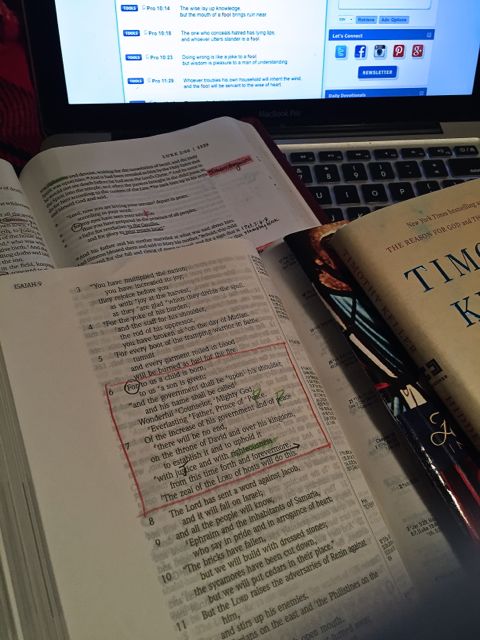 As we've studied 1 Samuel 25, many of you may have learned some new Bible study skills. Now you have a chance to put those to work on your own! Below are some suggestions for continued study. Some of these ideas continue to look at themes and topics from 1 Samuel 25. Others relate to the Christmas season, and some move on to new chapters to study. We'll never run out of something to study in the Bible, will we?
For the Christmas season:
Use all the same study methods to study Luke 2, or a portion of the chapter. (It's a long chapter.) A study of this familiar chapter will reveal new treasures!
Study Isaiah 9:6-7, using the different tools on Blue Letter Bible — especially the interlinear, cross-references, and commentaries.
It's not too late to start a book of advent readings. This one by our good friends, Doug and Amy Hayes, suggests Bible passages to read each day. Take a few extra minutes to study one or two of the verses each day.
I am personally looking forward to reading Timothy Keller's Hidden Christmas, and taking the time to slow down and study some of the verses he quotes.
For continued study of themes and people in 1 Samuel 25: 
Study Proverbs 3:27 and how it relates to the story of David and Nabal. Look at the cross-references for the verse, and then dig even deeper by looking at the cross-references for those verses.
Search on the words haste and hurry in Blue Letter Bible.  Read the verses listed for these words, and note when and why people are hurrying. Study the original Hebrew and Greek words. Look at cross-references. When is haste good and when is it bad?
Study the word fool as it is used in the Old Testament. Be sure to note the different Hebrew words that are translated as fool. How do they differ in meaning? Are their different kinds of fools? Take notes on each type of fool as you read. How should we relate to a fool? What are the consequences of being a fool?
Do a concordance study of the words enemy and enemies in the Psalms. What does David say about his enemies? What does he ask God to do to his enemies?
Study David's life in more detail. What are his strengths? What are his weaknesses? How did God use him? What main sins do we see in his life, and what were their consequences?
Do a topical or concordance study of vengeance. Study words like avenge, vengeance, and revenge.
Search on the word Abigail in Blue Letter Bible. What else does the Bible say about her?
Study the topic of God keeping us from sin or evil. Search on keep AND evil (type all three words in the search box) on Blue Letter Bible. Study each verse that is listed, and be sure to read all the cross-references for each verse.
Read 2 Samuel, noting God's faithfulness throughout David's life, even when he sins, and David's continued willingness to accept correction and repent, even after adultery and murder.
Study Samuel and David's relationship. What role did Samuel have in David's life? Do you think Samuel's death influenced David's rash response to Nabal in 1 Samuel 25?
For other study:
Use the study skills you've acquired to study another chapter or passage on your own. Do word studies. Look at cross-references. Compare translations. Read commentaries.
Do another Busy Mamas Bible study on your own or with a group of ladies. Twelve other studies are available free in the archives of this blog. Eight of those studies are also available for purchase in print and eBook formats.
« «