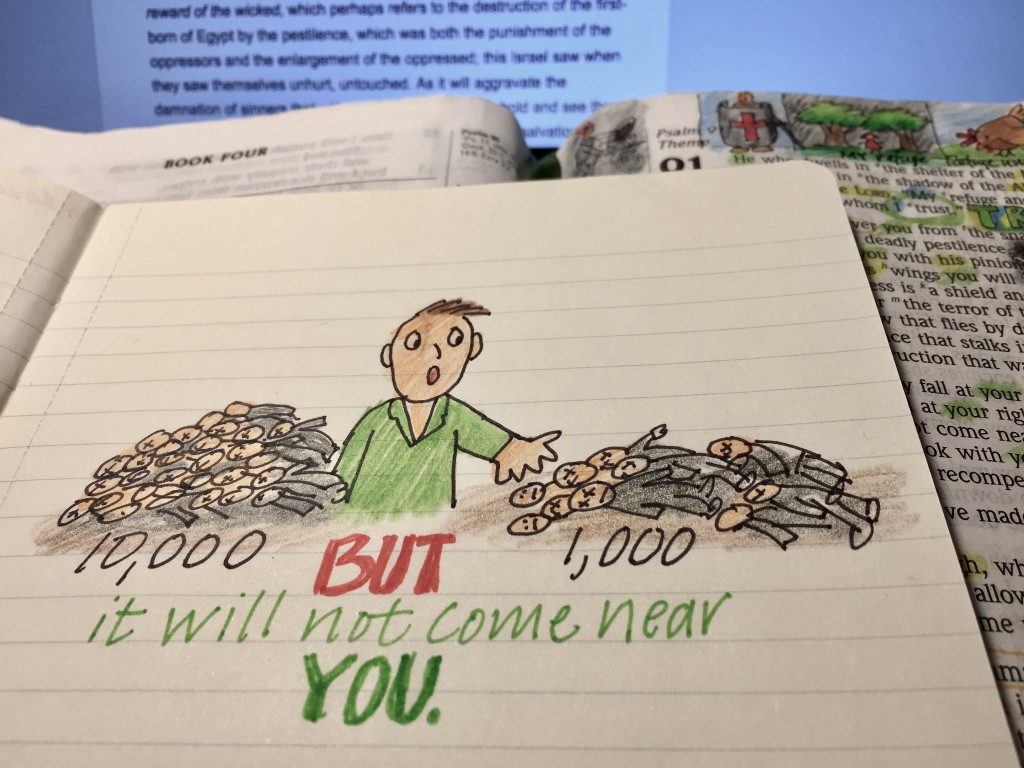 We've come to the hard parts of Psalm 91. What do we do with verses like this one? "A thousand may fall at your side, ten thousand at your right hand, but it will not come near you."
And what about verse 10? "No evil shall be allowed to befall you, no plague come near your tent."
They are wonderful words, but how do we reconcile them with the reality of what see all around us, and what we see in our own lives? People who love and trust God still succumb to disease. They still lose homes to fires and tornadoes. They lose loved ones to accidents and car wrecks, give birth to sick babies, see marriages fall apart, and watch dementia steal their aging parents from them.
How can we believe that evil will not come near us when we see its effects in our own lives and homes?
We're going to head for the commentaries while we consider these verses.
Assignment: Pray, thanking God for His love and care, and asking for the Holy Spirit to make the meaning of these verses clear to you.
How much of Psalm 91 can you recite for memory by now? You still working on it, right? You can do this! If you're having trouble, consider printing out the text in your preferred translation (See the links again in Day 1.) The verses are separated into two- and three-line units with space between them in these printouts. Sometimes just having the text arranged in small units can help us memorize. It's easier to see the relationship between lines and between verses that follow.
For instance, I was struggling with verse 11-13 until I noticed the progression from one verse to the next — angels guarding us in all our ways (as a path we're walking — with our feet), to preventing us from striking our foot against a stone, to trampling the lion and serpent underfoot. Seeing that repeated idea of feet helped me move from one verse to the next more easily.
Also, if you haven't tried out Scripture Typer and you are still struggling with memorizing the psalm, I encourage you to give it a try. It's not hard to figure out (if I did, that means it's pretty simple), and it has so many different ways to work on the verses, it works for almost any type of learner.
Now let's look at another online Bible study site — Bible Study Tools. (At this point, if you're working on a smartphone or tablet, I recommend using the website online rather than using the app. The app doesn't always work reliably, plus there are several versions formatted differently, which makes it very difficult for me to give you instructions.)
Bible Study Tools may not be as easy to use as Blue Letter Bible, but they do have Spurgeon's Treasury of David, which makes it worth the effort. Treasury of David is a wonderful verse-by-verse commentary on all the Psalms. We can't study a psalm without consulting this commentary! (Bible Study Tools also has John Gill's Exposition of the Bible, which is another good verse-by-verse commentary that is not available on Blue Letter Bible.)
Go to www.biblestudytools.com and type "Ps 91:7" in the search box. Click "Find It!"
Scroll down below the text of verse 7 until you see the section labeled "Study tools for Psalm 91:7." You should see the "Commentaries" highlighted in blue. Click on Treasury of David, and then on the link for "Psalm 91:7."
Read Spurgeon's commentary under the heading, "Exposition, " and take notes. Charles Spurgeon lived in the time when an actual plague of cholera was killing thousands of people in London, so he finds practical application of these verses in Psalm 91. But he also addresses a sort of spiritual plague that true believers are immune to. What is that "plague?"
Scroll back up toward the top of the page and click on the blue "Psalm 91:8 >" and read these comments on verse 8.
Summarize what you have found so far. We'll look further tomorrow.
For your children:
Review memorization of Psalm 91 and then read Psalm 91:7-8 together.
Read or listen to the account of Sennacherib's attempted siege of Jerusalem in 2 Chronicles 32:1-22. Here's a real life example of Psalm 91 in action! Notice all the parallels to the psalm as you read:
Hezekiah prepared to defend his people by repairing and building new walls and towers, and making shields and weapons. (These methods of defense should sound familiar after reading about God being our fortress, shield, and ramparts.)
Sennacherib's taunting of the people sounds an awful lot like the "snare of the fowler," as he seeks to undermine the people's trust in their king and their God.
Hezekiah urges the people to not be afraid because there are more with them than there are with Assyria. (Angels, perhaps?)
Hezekiah calls to the Lord, and the Lord answers him and delivers him and his people.
God sent an angel who killed the Assyrian warriors and officers, while leaving the Israelites untouched.
Have your children illustrate this historical account in a comic-book style series of pictures, or act out the story together.
« «